This is an archived article and the information in the article may be outdated. Please look at the time stamp on the story to see when it was last updated.
DAVIDSON COUNTY, N.C. — A tractor-trailer overturned Tuesday morning on I-85, resulting in a Hazardous Materials situation that temporarily shut down all northbound lanes of the interstate in Davidson County.
The crash, which involved an Orica USA, Inc. truck, happened shortly after 6:15 a.m. on I-85 North near U.S. 64 / Exit 96.  Witnesses told troopers the truck's right, front tire blew before it went off the road and overturned.
The truck driver was taken to Wake Forest Baptist Medical Center.  Trooper S.E. McHenry identified the driver as a 60-year-old man from Harmony.  McHenry says the man suffered a head injury.  He was described as being in "serious but stable condition" as of 1 p.m. Tuesday.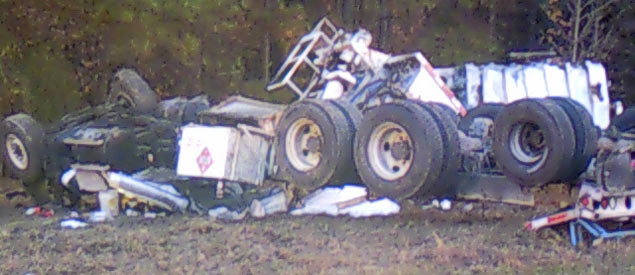 According to troopers, the rig was hauling blasting caps from Gold Hill to a quarry near Chapel Hill.  The blasting caps have been separated from the truck and pose no threat.
While Trooper McHenry identified the cargo as "ammonia nitrate in powder form," an Orica USA spokesperson identified the materials simply as "an oxidizer." 
"We are working with local authorities and HEPACO — a hazardous material clean up company — to mitigate the effects of the incident and we will cooperate fully with the investigation," the spokesperson said.
In October, an Orica truck hauling the same materials crashed on I-85 North near Mile Marker 111 in Archdale.
Two northbound lanes of the interstate were reopened shortly after 9 a.m. Officials originally estimated all northbound lanes would remain closed until at least 11:30 a.m.  Drivers on I-85 North were temporarily rerouted onto U.S. 64 and Business 85 North.
No charges are expected.