This is an archived article and the information in the article may be outdated. Please look at the time stamp on the story to see when it was last updated.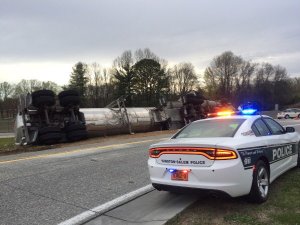 WINSTON-SALEM, N.C. — A tractor-trailer overturned on a ramp to Interstate 40 in Winston-Salem, according to police.
The incident began at about 7:44 a.m., according to the N.C. Department of Transportation.
The tractor-trailer was driving on Highway 52 South when it took the ramp to I-40 East.
The vehicle then rolled onto its side.
Police temporarily closed the ramp.
NCDOT expects the scene to clear by 12:03 p.m.