This is an archived article and the information in the article may be outdated. Please look at the time stamp on the story to see when it was last updated.
LEXINGTON, N.C.– A tractor-trailer went airborne and crashed near the intersection of U.S. 52 and West Center St. Extension on Thursday evening, according to Highway Patrol.
The truck, driven by Brian Brooks, left Southbound U.S. 52, went airborne and landed on the West Center St. Extension around 7 p.m.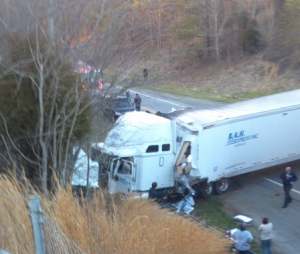 Biesecker Road to Rockway Drive was closed for an extended period of time due to the accident.
The road opened overnight.
Brooks was transported to Wake Forest Baptist Medical Center.
No other injuries were reported.
Officials have not said what caused the accident.
No other information was provided.