This is an archived article and the information in the article may be outdated. Please look at the time stamp on the story to see when it was last updated.
VIRGINIA BEACH, Va. — The driver of a tractor-trailer was killed when his truck crashed over the side of the Chesapeake Bay Bridge-Tunnel and into the water on Thursday.
Police said the accident happened near mile-marker 15 when the semi struck a light pole, slammed through the guardrail and landed in the Chesapeake Bay around 10 a.m.
Officials say the driver of the tractor trailer was "too entangled" in the wreckage to be saved.
WTKR reports the tractor-trailer hit a maintenance truck before jack-knifing and going off the bridge.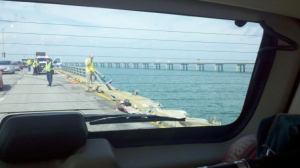 Navy, Coast Guard and Virginia Beach Fire crews were dispatched to the accident.
Reports suggest the driver was the only person inside the semi.
Officials said the semi was headed northbound while workers were repairing cracks on the bridge when the big rig slammed into a maintenance truck.
Read more: WTKR