This is an archived article and the information in the article may be outdated. Please look at the time stamp on the story to see when it was last updated.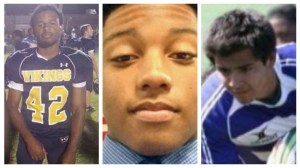 GREENVILLE, N.C. — A North Carolina high school student-athlete is the third in less than a week to drown.
The body of 17-year-old Devantae Dortch was recovered from the Tar River in Pitt County at about 4:30 p.m. Saturday, WITN reported.
Dortch was a junior football player at D.H. Conley High School in Greenville.
Officials say Dortch dove into the river while playing with other teens, but he never came back up.
On Memorial Day, 18-year-old Justice Clark, a senior football player at Harnett Central High School in Angier, drowned while swimming with friends at a pond in Lillington, WRAL reported.
Friends said they tried to help Clark when he went under.
On Tuesday, 17-year-old Marcos Hernandez, a junior rugby player at North Mecklenburg High School in Huntersville, drowned while swimming with friends in Mountain Island Lake near Charlotte, according to WCNC.
Divers located the body using SONAR.