This is an archived article and the information in the article may be outdated. Please look at the time stamp on the story to see when it was last updated.
Hurricane Michael, now a strong Category 4 storm, is forecast to move faster to the northeast over the next 24 hours and be over North Carolina as a Tropical storm on Thursday afternoon and evening, said FOX8 Meteorologist Van Denton.
Winds here in the Piedmont-Triad will generally be around 20 mph with potential gusts to around 40 mph. Winds will be higher in the eastern and southern part of the state where 30- to 50-mph winds will be more common and a few higher gusts possible.
Due to Michael's faster movement, rainfall will not last as long as it did with Hurricane Florence, Van Denton said, but there will still be a flooding threat. The graphic above shows where the heaviest rainfall should be in the state on Thursday at various times.
"There is a threat for some flooding," Van Denton said. "A general 2 to 4 inches over the western half of the Piedmont with 4 to 6 inches on the east side."
The tornado threat is expected to remain in the eastern and southern part of the state based on the latest track.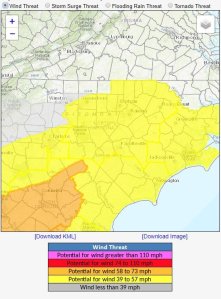 Weather across the state will begin to improve Thursday night from southwest to northeast with the far northeast seeing improvement before daybreak on Friday.