This is an archived article and the information in the article may be outdated. Please look at the time stamp on the story to see when it was last updated.
WINSTON-SALEM, N.C. — It's really exciting when you find out there's going to be a new baby in the family and that's also the case when it comes to work families.
Some Piedmont co-workers are getting ready for not one, not two, but six baby showers.
Nina Day, Bethany Stringer, Emily Johnson, Nikki Huth, Sabrina Hudson and Katie Carlton are nurses in the outpatient hematology oncology unit in the Comprehensive Cancer Center at Wake Forest Baptist Medical Center.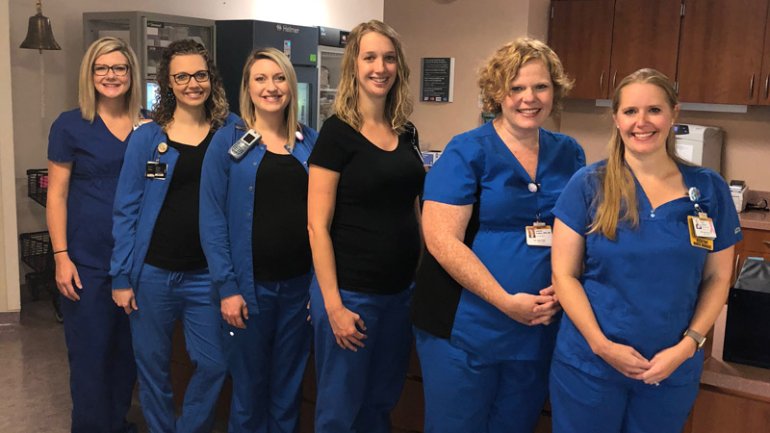 They are each pregnant with due dates across the next six months.
"To me it's just a blessing. You already have a great group to work with, but then you also get to have that support and comfort at work while you're pregnant too," Johnson said.
This baby boom has earned the ladies a new nickname.
A patient referred to them as "The Fabulous Six-Pack."
Most of the nurses in "The Fabulous Six-Pack" have been working together for three to five years.
"All of us are trained as infusion nurses, so a lot of the times we're doing chemotherapy or other drug treatments with patients," Huth said.
"We've seen the same stuff and walked with patients down the same difficult paths or happy paths or whatever is going on, so we've already had a bond before this even began – this has just made it even stronger," Stringer said.
Now this "six-pack" is looking forward to when it will officially become the 12-pack.
There are just under 30 nurses on staff in this unit.
Patient care will not be disrupted when the nurses are on maternity leave.