This is an archived article and the information in the article may be outdated. Please look at the time stamp on the story to see when it was last updated.
CHARLOTTE, N.C. — On Thursday, Carowinds announced a new, record-breaking roller coaster expected to open next spring.
Fury 325, the world's tallest and fastest giga coaster, is part of a $50 million dollar multiyear investment at Carowinds.
The roller coaster will be the fifth-tallest steel roller coaster and one of the 10 fastest in the world.
Fury 325 will be the "centerpiece of a new 8.2 acre main entrance plaza that includes a state-of-the-art ticketing and season pass processing area and expanded guest service facilities," the park said on Thursday.
"Starting with Fury 325, we plan to make Carowinds a destination for thrillseekers to celebrate the Carolinas," says Mike Fehnel, Carowinds Vice President and General Manager. "The new ride will build on the heritage of the park, creating new memories and traditions for our loyal fans and future guests from around the world."
Riders will board into three 32-passenger open air trains and begin their ascent to the top of a 325-foot (over 30 stories) hill. This immense hill is followed by an exhilarating 81 degree first drop.
Like an angry hornet chasing its target, Fury 325 will race through a series of hills, curves and quick transitions while reaching speeds of up to 95 miles per hour.
Riders will speed along 6,602 feet of track during the nearly three and one half minute ride.
"The tradition of the park is so important to those who have grown up here," says Fehnel. "It's long overdue that we gave our fans a new energy surrounding Carowinds, which will build on our legacy as the premiere entertainment destination for generations of Carolinians."
Feel the Sting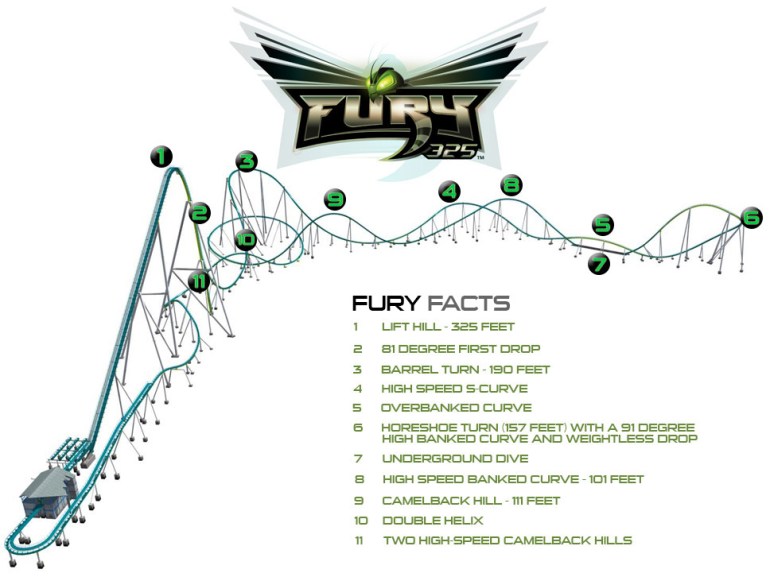 Riders begin their adventure on one of three 32-passenger, open-air trains to the peak height of 325 feet and drop a dramatic 81 degrees. Then like an angry hornet chasing its target, riders race into a massive 190-foot tall barrel turn and a high speed S-curve reaching speeds of up to 95 miles per hour.
Just above the front entrance, riders experience an astonishing 91 degree overbanked horseshoe turn, and then take a sharp dive underneath a pedestrian bridge, swarming at full force into the back half of the ride, through a high speed banked curve, camel back hill and an intense double helix maneuver.
Most rides would be done by now, but know this is North America's longest steel coaster. The ride finishes by racing through two more high speed camel back hills before hitting the brake run. Get ready! Fury 325 does not let up during its three-minute and 25-second ride along 6,602 feet of steel – it's full throttle all the way and impossible not to feel this ride's penetrating sting.