This is an archived article and the information in the article may be outdated. Please look at the time stamp on the story to see when it was last updated.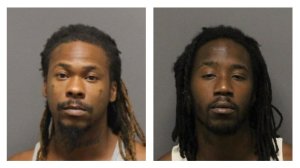 GREENSBORO, N.C. — Surveillance photos and a Crime Stoppers tip helped Greensboro police find and arrest two men after a robbery last week.
James William Cowan II, 24, and Christopher Gene Watkins, 25, both of Greensboro, were charged with robbery with a dangerous weapon, conspiracy to commit robbery with a dangerous weapon and possession of a firearm by a convicted felon.
On Aug. 29, the two men got into a taxi at 2000 E. Market St. before robbing the driver at gun point, according to police.
The driver handed them an undisclosed amount of cash.
The two men then left the scene.
Both are being held on $50,000 bonds.
Police continue to investigate and ask anyone with information to contact Crime Stoppers at 336-373-1000 or text "badboyz" and the tip to 274637.