This is an archived article and the information in the article may be outdated. Please look at the time stamp on the story to see when it was last updated.
OKLAHOMA CITY — A suspected burglar in Oklahoma City was left beaten after getting into a fight with the owner of the home he was targeting.
According to KFOR, 19-year-old Jonathan Wise had two black eyes and required stitches when he was arrested.
The homeowner, Norm Houston, told police he found Wise inside his garage.
"I heard a thumbing noise on my garage door," Houston told KFOR. "I swung open my backdoor and somebody was standing there."
While the two were standing face-to-face, police say the suspect attacked Houston.
"The burglar started out by apologizing to him for getting into the garage and said he had fixed the damage only to follow that up by punching him in the face," Master Sgt. Gary Knight  with OKC Police said.
Despite not throwing the first punch, Houston left Wise bloodied and bruised.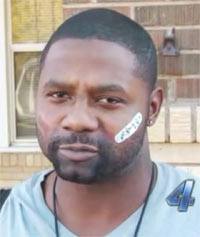 Little did the suspect know, Houston is a personal trainer who specializes in boxing and kickboxing.
"You know I ain't the toughest, but I can hold my own," Houston told KFOR.
KFOR reports police took Wise to the hospital before booking him.
Source: KFOR.com