This is an archived article and the information in the article may be outdated. Please look at the time stamp on the story to see when it was last updated.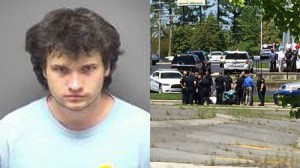 HIGH POINT, N.C. — Police have arrested a suspect in two separate bank robberies Monday in High Point.
According to Capt. Mike Kirk, a tip from a Crescent Ford employee led to the arrest of 30-year-old Christopher Lee Long near the dealership.
The banks targeted were the BB&T Bank, located at 620 N. Main St., which was robbed at 11 a.m., and the Bank of America, located at 201 E. Parris Ave., which was robbed at 1:58 p.m.
Kirk said the arrest was made just minutes after the robbery of the Bank of America.