This is an archived article and the information in the article may be outdated. Please look at the time stamp on the story to see when it was last updated.
GREENSBORO, N.C. — A crime spree across Greensboro on Tuesday afternoon ended with one suspect taken into custody, another in critical condition at the hospital and multiple victims injured.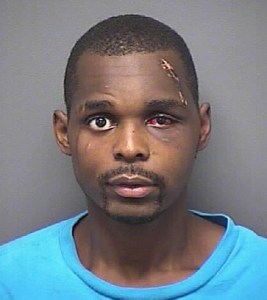 Isaiah Jurel Fox, 26, of Greensboro, is in critical condition after police shot him to stop a crime rampage that began at approximately 2:30 p.m.
Police said the first incident reported to Greensboro police was an armed robbery at the TJ Maxx, located at 4217 W. Wendover Ave., which occurred at 2:24 p.m. A witness reported the suspect pushed him while exiting the store and threatened him. The suspect then left in a Dodge driven by another person.
At 2:53 p.m., officers saw the suspect vehicle and attempted a traffic stop at West Market Street and Spring Garden Street. Police said Fox fled from police. The other occupant, 50-year-old Charles Anthony Walker Jr., of Greensboro, was taken into custody without incident.
Fox eluded officers and was next reported as attempting to steal an occupied car on Thornton Court at 3:21 p.m., police said. The victim reported the vehicle was not taken, however Fox allegedly struck her multiple times in the head. After this unsuccessful attempt at a carjacking, the suspect continued fleeing on foot.
A short distance later, Fox was able to steal a car at gunpoint and flee the area. Police said Fox, then driving the stolen car, hit a person on the golf course behind Way Cross Road. The golfer suffered minor injuries. The suspect abandoned the stolen vehicle on the golf course and once again fled on foot.
Police said over the course of the next 15 minutes, Fox is suspected of committing at least two attempted carjackings and a house break-in. He then fled the area and drove to Murrow Boulevard at Market Street, where he collided with another vehicle and once again fled on foot to the vicinity of the City View Apartments near Gorrell Street. Multiple witnesses stated he unsuccessfully attempted to steal other vehicles and broke into at least two residences, assaulting one person in the process.
Witnesses directed police to Fox, who then confronted police. Police said at this point, two officers, Det. R.E. Ferrell and Det. W.C. Tyndall, fired at the suspect, striking him. Fox was transported to a local hospital where he is in critical condition.
Police believe Fox may have committed other offenses throughout this 45-minute period and are asking anyone who may have been victimized to call 911 immediately.
Per department protocol, Ferrell and Tyndall have been placed on administrative duties while the investigations are ongoing.
The State Bureau of Investigation is investigating the incident to determine if the uses of force were in accordance with state law. Their findings will be presented to the District Attorney, who makes the final determination of compliance with the law.
The Greensboro Police Department's Professional Standards Division will investigate to determine if departmental policies were followed during the incident.
Det. Ferrell joined GPD in May of 2004. Det. Tyndall joined in Dec. 2004.
Officers, detectives and agents from the SBI are currently interviewing multiple witnesses at locations throughout the city.
Police said due to the complexity of the incident, additional updates may not be available until tomorrow.
Walker is charged with common law robbery and felony conspiracy. Fox is currently charged with assault with a deadly weapon with intent to kill inflicting serious injury.
Further charges are pending on Fox.