This is an archived article and the information in the article may be outdated. Please look at the time stamp on the story to see when it was last updated.
LEXINGTON, N.C. — Lexington police arrested a South Carolina man after a chase that ended in a crash at a rail yard in Linwood.
Police officers came to the Dollar General on North Talbert Boulevard at 4:03 a.m. after an alarm was tripped at the store.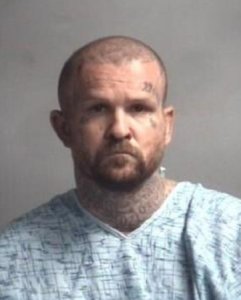 Scott Jason Mock, 30, of York, South Carolina, is charged with larceny, felony flee to elude arrest, possession of a firearm by a felon, driving left of center, failure to stop for stop sign/flashing red light and failure to wear seat belt.
Officers found Mock sitting in a truck behind the business. When they tried to talk to him, he sped off, the release said.
Surveillance video from a restaurant in the shopping center shows a truck pulling behind the businesses off Talbert Boulevard. Police say they originally thought the suspect was trying to break into Dollar General, but officers say they later found the real target was the copper wiring from the electrical boxes behind the building.
Lexington police pursued Mock and once he got on Interstate 85 South, Davidson County deputies took over the pursuit.
The pursuit ended at the Linwood railroad switch yard when Mock crashed the vehicle and went down an embankment.
Isla Roberts was coming to the shopping center to eat with some friends and found the restaurant had to open late because the power was out.
"We got over here to find out that everyone is closed up so I guess we're going to wait to go ahead and eat then," Roberts said.
Electric crews were working behind the building for hours. Around 11:15 a.m. Tuesday, the lights came back on.
Bob Correll, an electrical contractor, was also at the shopping center to grab a bite to eat.
"We get a lot of work from these guys who steal copper. They go and they rip out all of the electrical," Correll said. "Some of these guys do some really dangerous stuff, the electrical can be really hot and they're putting their life on the line when they do this."
Correll said he sees a lot of copper wire theft, but not typically in businesses like this.
"This is a first for me where they actually are hitting a business that's actually active," he said.
Businesses here had to turn customers away all morning, and it took them hours to get caught up.
"Yes it is wild, I just can't believe it. That's people's businesses where they go and make money and feed people. I just can't understand it," Roberts said.
Mock was taken into custody after being treated at Wake Forest Baptist Medical Center.
He was also served a fugitive warrant out of Rock Hill, South Carolina. Mock was placed in the Davidson County Detention Center under a $3.5 million bond.