This is an archived article and the information in the article may be outdated. Please look at the time stamp on the story to see when it was last updated.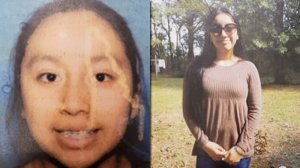 LUMBERTON, N.C. — The FBI has released an surveillance photo of the SUV wanted after a 13-year-old girl was abducted outside her home in Lumberton on Monday morning.
Officers previously reported Hania Noelia Aguilar was driven away in a green, 2002 Ford Expedition with South Carolina license plate NWS-984. The hood of the car is peeling and there is a Clemson sticker on the rear window.
Police asking anyone in the Lumberton area who may have a camera or video surveillance system to save their video, even if the vehicle does not appear in the vehicle, and contact the tip line immediately at (910) 272-5871.  Officials say even video that does not show the vehicle may still contain important information.
The FBI is offering a $15,000 reward for information that leads to Hania.
She was at the Rosewood Mobile Home Park waiting for the rest of her family to come outside and drive to school when she was forced into a car just before 7 a.m., the FBI and Lumberton Police Department say.
"A witness saw a male subject dressed in all black and wearing a yellow bandanna force Hania into a relative's vehicle that was parked in the driveway," the FBI said in a statement.
"Hania is a Hispanic female, 5 feet tall, weighing approximately 126 pounds. She has black hair, and brown eyes. She was last seen wearing a blue shirt with flowers and blue jeans," it said.
"Hania's mother asks whoever took her daughter to please bring her back home," Lumberton police said in a release posted to Facebook.
At a Tuesday afternoon press conference, the FBI read a note from Hania's mother:
"I just want my daughter back with me. I am here waiting for you, I love you and only care about you and I don't have anything against whoever did this to you. I just want you back."
Police, the Robeson County Sheriff's Office, FBI agents and agents with the State Bureau of Investigation are following nearly 50 leads, the release said.
WRAL reported that Hania was an eighth grader at Lumberton Junior High School.
It quoted her sister Heylin Perez as saying Hania had gone outside to start the family's car despite her aunt telling her not to.
"She just got the keys and started to turn it on," Perez said. "And somewhere out of nowhere the man came in and took her away."
The family heard Hania screaming, she said.
CNN contributed to this article.