This is an archived article and the information in the article may be outdated. Please look at the time stamp on the story to see when it was last updated.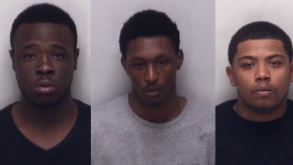 SALISBURY, N.C. — A large haul of drugs, guns and bullets were seized from a car Monday night near Salisbury, WSOC reported.
Authorities said an officer recognized Aquavius Lee as a man who had outstanding warrants against him. Officers said they recovered five guns, 318 grams of marijuana, a gram of cocaine and a lot of ammunition.
Police arrested Lee, 16-year-old John Jefferies and 25-year-old Aaron Wilks.
Wilks is related to pastor Latasha Wilks, who recently held an anti-violence march in February and has spoken out against a deadly officer-involved shooting that happened in Salisbury.
Latasha Wilks released this statement on her son's arrest:
This is why I am very big on stopping the violence and reducing crime in the community. What happened to Aaron and others could happen to anyone's children. My plans are to continue to work very hard to stop the violence and help to reduce fear of our young adults so they won't feel a need to have guns in their possession. Aaron is very humble and was raised to be very respectful and has been all of his life. I am working with another group to bring many jobs into the community to reduce violence. I plan to show my son love and support just as I have others in the community. This is his first time in 25 years being in trouble and I pray that this is his last.
Officers believe the suspects were dealing drugs in the Salisbury area.