This is an archived article and the information in the article may be outdated. Please look at the time stamp on the story to see when it was last updated.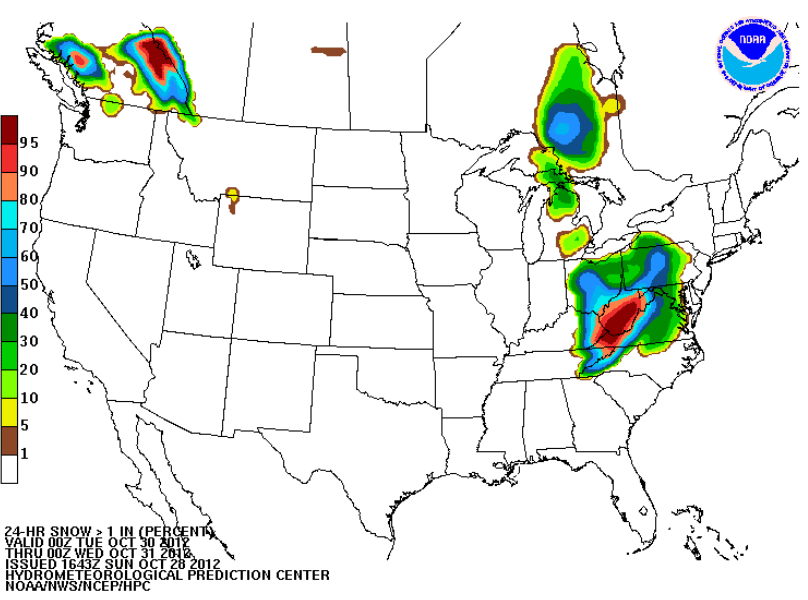 Snowflakes are still possible in parts of the Piedmont Triad late Monday night into Tuesday. This is a complicated storm and there is a lot of detail in my post below.
As of 5 p.m. Sunday, Hurricane Sandy was 270 miles ESE of Hatteras and moving NE at 15 mph. It will begin to turn back to the NW on Monday and is expected to make landfall on the New Jersey coast around midnight Monday.
The wind field is huge with this system. Hurricane force (74 mph+) gusts extend out to 175 miles from the center and tropical storm force (39 mph+) extend up to 520 miles. Given the size of the high winds and the track, millions in the Mid-Atlantic and Northeast may lose power from this storm.
While that is happening, it will transition from a Tropical system to a cold core system and the air aloft will be getting very cold. This is already leading to snow in the highest mountains and we will see this continue to spread out and lower in elevation as the colder air pours in.
As of this writing, the snow levels have already lowered to near 5,000 feet in the northern mountains of N.C. where snow is now falling at Beech and Sugar Mountain.  By Wednesday, snowfall totals may reach 3 feet in parts of West Virginia (most in the highest elevations), 1-2 feet above 5,000 feet in Virginia and 12-18 inches in the higher mountains of N.C. The lower mountain areas below 3,000 feet will likely see a few inches mainly at night when the air is coldest, then may mix with rain or change to rain during the day based on elevation.
I am still noticing the possibility for some wrap around moisture to return to the Piedmont on Monday night and Tuesday. This doesn't generally do much east of the mountains and we have never recorded October snowfall in the Piedmont Triad since records began in 1928. But again, this is an unusual storm.
It appears that if we get the moisture to indeed wrap around into our area on Monday night into Tuesday, the upper levels will be plenty cold for snow.  However, the surface will be marginal. When this happens, it usually plays out that we get all liquid if precipitation is light and it mixes with or changes to snow if the intensity is heavy enough.
It appears the snow will certainly make it to about 1,500 feet above the ground level over the Piedmont.  If it picks up in intensity, that could easily reach down to near the surface. Either way, the ground and near-ground temperatures should be warm enough that we would have no trouble from it here.
There are no guarantees we get the wraparound precipitation either. With a low to the north, this wrap around is precipitation that moves from NW to SE. This means the air sinks off the mountains as it heads our way. This sinking motion dries the air out and that is why we often miss out when storms are to our north and get our snows more often when they come from the south.
The attached image is a grab from the snowfall outlook issued by the HPC (Hydrometeorological prediction center). It shows the odds for snowfall of at least 1" or more. Northern counties have a 10 to 20 percent chance and mountains have nearly a 100 percent chance. The odds for measurable snow south of the Triad drop to less than 5 percent, but the odds for a few flakes is still higher for all.
The wind is also going to become a bigger deal for us. Wind gusts on Monday will likely reach 35 mph and more than 40 mph on Tuesday. We often see higher winds with thunderstorms, but they don't last as long as these winds are going to last.