This is an archived article and the information in the article may be outdated. Please look at the time stamp on the story to see when it was last updated.
NORTH WILKESBORO, N.C. — An elusive snake turned a Wilkes County woman's trip to Winston-Salem into an expensive adventure and resulted in a fruitless two-day search for the reptile.
The Winston-Salem Journal reported that it began shortly after noon Wednesday when Joan Bumgarner said she was driving along U.S. 421 South in eastern Yadkin County.
Bumgarner was taking her sister to Wake Forest Baptist Medical Center for an appointment.
Bumgarner said she felt something brush against her leg as she drove her white Lexus RX 350 on the highway into western Forsyth County.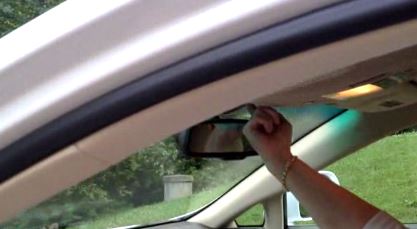 "I looked down and didn't see anything," Bumgarner said. "About 10 minutes later, I saw the (snake's) head coming from behind the rearview mirror. It must have crawled up from the seat."
It was black and gray, and Bumgarner said she believes it was likely a black snake.
The snake then dropped onto the dash board. Bumgarner pulled her SUV off the highway, and she and her sister quickly got out of the vehicle. The snake didn't bite them, she said.
"I stayed as calm as I could, but I was pretty scared," Bumgarner said with a laugh. "The snake literally fell in my sister's lap."
Bumgarner called 911, and two deputies and a Forsyth County animal-control officer came to the scene.
"One deputy saw the snake, but he couldn't get it," Bumgarner said.
That deputy and the animal-control officer didn't see the snake after that, said Tim Jennings, the director of the Forsyth County Animal Control.
A deputy then took Bumgarner's sister to Wake Forest Baptist, and a tow truck hauled the SUV and Bumgarner to Flow Lexus of Winston-Salem on Jonestown Road.
A group of Flow employees, an animal-control officer and a pest-control specialist searched the vehicle Thursday and Friday, but they couldn't find the snake, either.
"Some way or another, it slithered away," said Wally Gordon, the Lexus dealership's service manager.
The snake could have crawled out of the SUV along the highway before it was towed to the car dealership, Jennings said.
"I suppose anything is possible," Jennings said. "It could have crawled out of the vehicle, if it felt it was being harassed."
Bumgarner, 64, is a retired middle-school teacher who lives in the Mulberry community near North Wilkesboro in a house on a 30-acre tract surrounded by trees.
She rented a vehicle from the dealership to get home Thursday. Her SUV was delivered to her Friday.
Black snakes, which are not venomous, live in rural areas, and one could have fallen from a tree near Bumgarner's house onto the SUV or crawled into the vehicle through its engine or some other way, Jennings said.
The serpentine ordeal left Bumgarner with a bill of almost $700 from the dealership, but she said she wasn't concerned that the snake might still be in her vehicle.
"I guess it escaped, at least I hope so," she said.