This is an archived article and the information in the article may be outdated. Please look at the time stamp on the story to see when it was last updated.
The wintry mix has ended but the National Weather Service is cautioning motorists about "dangerous weather conditions" Tuesday morning.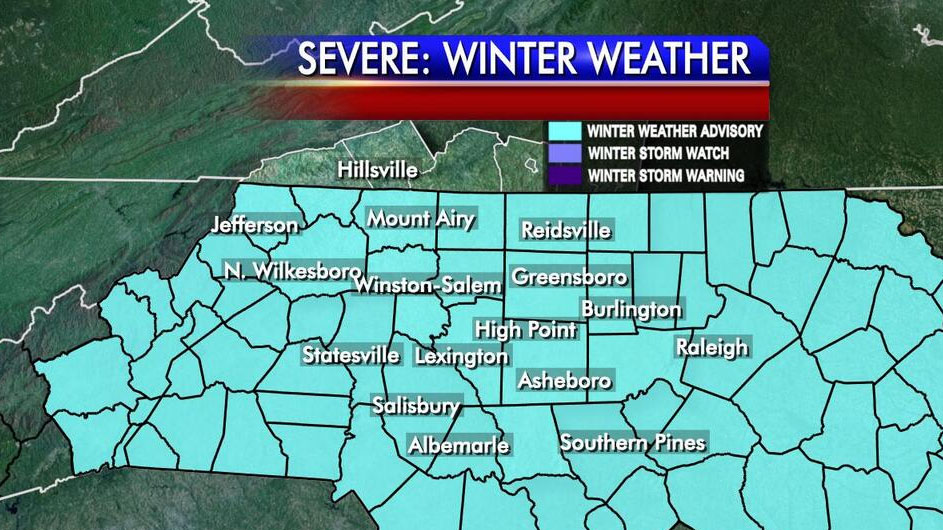 Temperatures dipped into the upper teens Monday night and much of the moisture and snow on the roads has re-frozen.
The NWS said snow and ice covered roads will continue to produce hazardous travel through noon Tuesday for the entire central Piedmont.
"Patchy to solid areas of black ice are expected on many roads that currently remain wet or slush covered as temperatures fall into the teens," the NWS warned in the Winter Weather Advisory.
As of Tuesday morning, interstates are predominately clear while primary roads vary. Some still remain covered with snow and ice. Secondary roads are covered with snow and ice and have received little exposure to salt and plows.
Tuesday will remain cold with highs in the upper 30s, but the sun will help and certainly dry the roads out.
Sunshine early in the day will help roads thaw out, despite temperatures staying below freezing until just after lunchtime. Our skies will become partly cloudy in the afternoon and highs today will be chilly, in the upper 30s.
Tonight, skies remain partly cloudy and though it will be cold overnight, temperatures won't be as bitterly cold as this morning. Expect temperatures to settle into the upper 20s by daybreak.
Wednesday offers some improvement, with mostly sunny skies through the day. Highs are going to approach 50 degrees.
"On Thursday, the next system approaches and this one will bring a cold rain to much of the state. However, in areas north and west of the Triad, this may produce a wet snow. No ice is expected with this system," Meteorologist Van Denton said. "There will be a tight gradient between wet snow and rain and it is too early to pinpoint where this line will be. We feel at the moment, it will be near or just west and north of the Triad.  Thursday night before ending, this line is expected to shift south and east and areas that get rain earlier may mix or change to snow before ending. Highs will be in the 40s with lows in the lower 30s."