This is an archived article and the information in the article may be outdated. Please look at the time stamp on the story to see when it was last updated.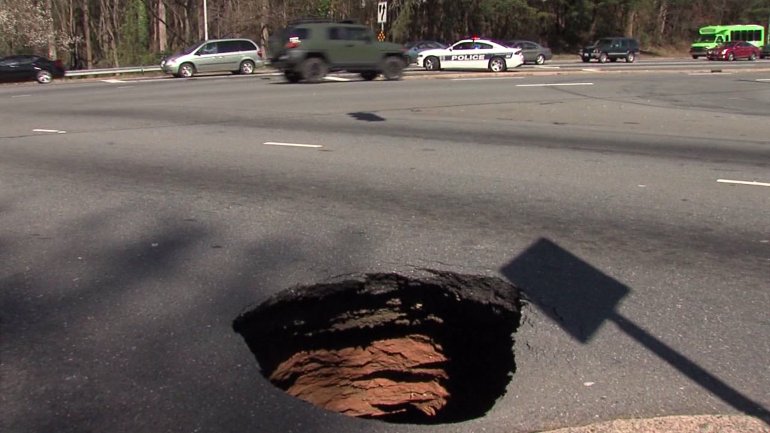 WINSTON-SALEM, N.C. — Part of a major Winston-Salem intersection will be closed for nearly 24 hours after a giant sinkhole opened up.
The sinkhole opened up on Hanes Mall Boulevard at Silas Creek Parkway in Winston-Salem.
All eastbound lanes of Hanes Mall Boulevard near Silas Creek Parkway are closed and one southbound lane of Silas Creek Parkway is closed at the intersection.
Although it appears small at the surface, it's actually about 50 feet across under the pavement and 15 to 20 feet deep.
North Carolina DOT engineers attempted to fill the hole with concrete earlier in the evening but had to stop repairs when they discovered that the concrete was running out of a broken storm drain. The concrete would have entered a creek if they had not stopped.
Crews have placed a large metal plate over the hole and NCDOT engineers are working to come up with a new repair plan. Repairs may not resume until Wednesday morning, FOX8 has learned.
Winston-Salem police ask drivers to avoid the area if possible.