This is an archived article and the information in the article may be outdated. Please look at the time stamp on the story to see when it was last updated.
REIDSVILLE, N.C. — Authorities say a business owner fatally shot a break-in suspect early Monday in Rockingham County.
According to Sheriff Sam Page, the shooting occurred between 3:15 and 3:30 a.m. at Hall Well & Plumbing Inc. located at 2433 Flat Rock Road.
Sheriff Page says two suspects were breaking inside the business when an alarm sounded. The business owner, who lives down the road, responded to the alarm and confronted the suspects, Page said.
The suspects were pushing rolls of copper wire when the owner approached them, Page said.  The copper was later valued at $4,940.
Page says the business owner and suspects "got into a scuffle," during which the owner shot one of the suspects.
"Apparently one suspect apparently charged (the owner) and to defend himself he fired a shot, subsequently hitting one of the suspects who then ran around the front of the house and fell and died at the scene," Page said.
The suspect who was shot died, while the second suspect ran away from the scene, Page said.
Page later identified the suspect who was killed as 28-year-old Jesse Ray Walker of Reidsville.
"At this time all indications are (the business owner) was acting in a manner of self-defense," Page said.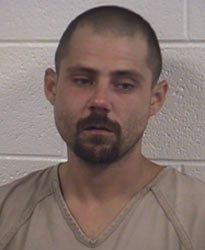 Officers spent several hours sweeping the area for the second suspect.  The suspect was caught around 10:30 a.m., deputies said.  He has been identified as 27-year-old Brandon Joe Hanks of Reidsville.
Hanks is charged with felony breaking and entering, felony larceny and possession of stolen property.  He is being held in the Rockingham County Detention Facility under a $75,000 bond.
No other charges are pending in the case, Page said.
Last week, deputies said Hall Well & Plumbing had been targeted by copper thieves three times since March.  In the latest theft, deputies said $1,600 worth of metal was stolen.
Page said the owner had planned to install new fencing around the building on Monday in an effort to prevent future break-ins.
Wesley Moore, who lives across the street, says he respect's his neighbor's decision to protect his business.
"Hate to see anybody get killed, but when you go to somebody's place of business and you're messing with their livelihood where they make their living… just got to stand your ground and look after yourself," Moore said.