This is an archived article and the information in the article may be outdated. Please look at the time stamp on the story to see when it was last updated.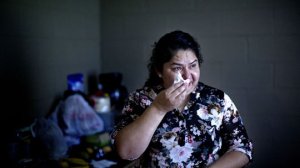 GREENSBORO, N.C. — From her bedroom window, Juana Luz Tobar Ortega can look out at her grandchildren playing on the swing set on the grass outdoors.
She could go and sit on picnic tables nearer to them when they visit and enjoy the breeze, but she won't.
Now that she is inside St. Barnabas Episcopal Church, where she sought sanctuary to avoid being deported June 1, she won't go through the doors leading back outside.
In previous cases elsewhere, presidential administrations have long held a policy of not entering places of worship or schools. But there have been several high-profile cases of U.S. Immigration and Customs Enforcement agents waiting outside of schools, as happened in Durham earlier this year.
"I feel safer in here," Tobar Ortega said through an interpreter of the inner sanctum of the brick church nestled in the woods with "Respect every person" signs now dotting the driveway.
Read more in the News & Record.