This is an archived article and the information in the article may be outdated. Please look at the time stamp on the story to see when it was last updated.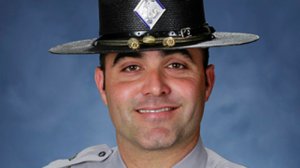 COLUMBUS COUNTY, N.C. — A second suspect has been arrested in connection to the shooting death of Trooper Kevin K. Conner, WECT reported.
Chauncey Askew, 18, has been identified as the second suspect but it's unclear what his alleged role was in the shooting.
Raheem Davis, 20, of Chadbourn, was previously arrested and charged with first-degree murder after he allegedly shot and killed Trooper Kevin Conner during an early morning traffic stop on Oct. 17. As Conner approached the vehicle, the suspect fired several shots, striking the trooper.
Conner was an 11-year veteran with Troop B in District 5.
Officials used Conner's dashcam video to identify the vehicle that the suspect was driving.
The vehicle was found in Fair Bluff. After a brief pursuit, the truck was disabled while trying to cross a railroad crossing. The driver then ran away from the truck.
Officials found the suspect after an extensive search and took him into custody around 4 a.m.