This is an archived article and the information in the article may be outdated. Please look at the time stamp on the story to see when it was last updated.
WINSTON-SALEM, N.C. — Police have charged a second suspect, after a student brought a gun to Carver High School on Thursday.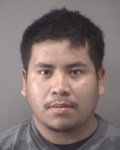 Winston-Salem Police arrested and charged Raul Olivera Mejia, 20, with failure to secure a weapon to protect a minor on Friday.
Carver High School was placed on lockdown on Thursday, after a student brought an unloaded .22 caliber pistol to school.
The student was charged with possession of a weapon on school property.
Mejia will appear in court later this month.