This is an archived article and the information in the article may be outdated. Please look at the time stamp on the story to see when it was last updated.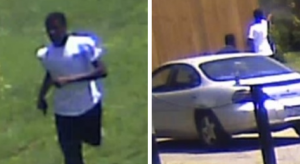 GREENSBORO, N.C. — Police have released an image of a second "person of interest" in connection with a fatal shooting in Greensboro.
The unnamed man is wanted in connection with the shooting death of 23-year-old Dallas Lamont McClure, according to Greensboro police.
Officers found the victim after responding to 2309 Phillips Avenue at 1:17 p.m. Sunday in reference to the shooting. McClure was taken to a local hospital and died from his injuries.
On Wednesday, 19-year-old Timotheus Yamari Grace, of Greensboro, was arrested and charged with first-degree murder. Grace surrendered himself to officers at the District 3 station around 11 a.m.
On June 26, Crime Stoppers published a flyer with a photo of a person of interest in the homicide. Calls to the anonymous tip line played an important role in connecting Grace to the shooting.
Another person was also shot in the incident. He has been treated and released from the hospital.
At the time of the homicide, Grace was facing a previous charge of shooting into an occupied dwelling. He was released from jail on bond and was being electronically monitored. Grace is now confined in the Guilford County Jail without bond.
Anyone with information regarding the individual can call Crime Stoppers at (336) 373-1000.