This is an archived article and the information in the article may be outdated. Please look at the time stamp on the story to see when it was last updated.
CHARLOTTE, N.C. -- The search for a missing Guilford County teacher in Charlotte is now a homicide investigation, police confirmed on Thursday.
Police in Charlotte are actively searching for Bianca Richardson Tanner, the 31-year-old Guilford County Schools teacher who went missing on Sunday.
Tanner was moving to Charlotte from Greensboro. She is a second-grade teacher at Reedy Fork Elementary School.
Police said clues have led them to begin a homicide investigation.
"Of course as each day goes by and she hasn't returned I'm worried," said Cerise Richardson, Bianca's older sister. "Is she ok? Is she scared? Is she hurt? Just all types of things run through your mind when it's someone you love."
"It's unfortunate that we have to draw the conclusion at this point... based on our concerns, we have elevated it to a homicide investigation," Charlotte-Mecklenburg Police Chief Rodney Monroe said on Thursday.
Elevating the case to a homicide investigation will result in additional resources being added to the investigation, police said in a news conference on Thursday.
"We have interviewed several individuals known to Ms. Tanner," Monroe said. "Some have yielded information that steered us into the direction of a homicide investigation."
There is no record of Tanner using her debit card or cell phone after she was reported missing.
Monroe said there are indications there was an argument between Tanner and her boyfriend Saturday night and Sunday morning.
"We employ the public's help to help provide any pieces of information that they deem may be relevant to this case," Monroe said.
Monroe said there are some inconsistencies in stories surrounding the case.
"Her vehicle never left the scene, so we don't believe she had any mode of transportation that could have taken her away from the area," Monroe said.
Tanner's 3-year-old son is with his biological father, police said.
"Her son misses her so much. Everyday he's just been asking for mommy he wants his mommy back and so does everybody else," Richardson said.
A $5,000 reward is also being offered for information about Tanner's whereabouts. Callers can remain anonymous by calling Crimestoppers at (704)334-1600.
Police were out on Thursday searching for Tanner on the area of N. Graham Street just outside of Uptown Charlotte and along LaSalle Street.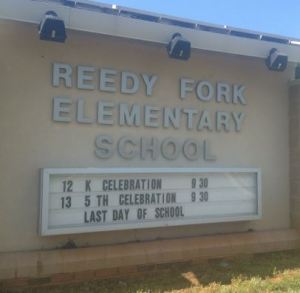 Tanner was hired by Guilford County Schools in 2004 as a substitute teacher. She was hired as a full-time teacher in 2006.
Tanner had a substitute in her class on Monday and Tuesday.
Charlotte-Mecklenburg Schools confirmed Tanner was at the Project Lift Office on Saturday applying for a job. She was to come back Monday to finish up some paperwork but never showed up.
Tanner is described as a black woman, 5'3″, 110 pounds with brown hair and brown eyes. She was last seen Saturday on Druid Circle wearing a red tank top, black shorts and black flats.
Anyone with any information regarding the whereabouts of Tanner is asked to contact Detective Faulkner at 704-336-8970 or call 911.