This is an archived article and the information in the article may be outdated. Please look at the time stamp on the story to see when it was last updated.
BOONE, N.C. — The search continues for a missing Appalachian State University student from High Point who has not been seen for five days.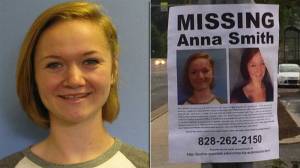 Anna M. Smith, 18, of High Point was last seen near her residence hall between 6 and 6:15 p.m. Wednesday, said Jane Nicholson, an App State spokeswoman.
"I would like to take this opportunity to ask all law enforcement agencies and citizens to assist us in returning Anna to the family that loves her," said Anna Smith's father Daniel Smith.
Smith also was seen shortly before 10:30 p.m. Tuesday riding in a university van that provides transportation for students around campus.
The ASU police department "has found nothing to suggest that (Smith's) actions are anything other than voluntary," Appalachian State said in a statement.
Smith has short red hair, blue eyes, and stands 5 feet 9 inches tall with a slender build. She has nose piercings, a black and white sunflower tattoo on her upper right chest near her collar bone and Latin lettering over her lower left ribs.
Smith has been entered on the National Crime Information Center database as a missing person, App State said.
Anna's father said his daughter enjoyed hiking and kayaking around Boone.
Anyone who has seen Smith or social media posts from her can call Appalachian State police at (828) 262-2150.