This is an archived article and the information in the article may be outdated. Please look at the time stamp on the story to see when it was last updated.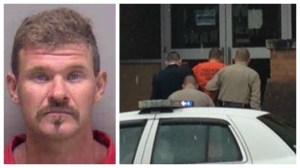 YADKINVILLE, N.C. — Scott Vincent Sica, the Florida man charged with murdering Jonesville Police Sgt. Greg Martin in 1996, agreed Tuesday to plead guilty for the first-degree murder of Martin back in 1996.
Sica entered the plea in Yadkin County court Tuesday morning.
The state will no longer seek the death penalty in exchange for Sica agreeing to plead guilty.
Sica also pleaded guilty to attempted robbery with a dangerous weapon.
Sica was sentenced to life in prison without parole. He was also sentenced to 117-150 days for the attempted robbery charge.
The state dismissed three charges, including conspiring to commit robbery with a dangerous weapon and two counts of possession of a stolen vehicle.
Sica, of Cape Coral, Fla., was arrested on Oct. 3, 2012, in connection with the 1996 shooting death of Sgt. Martin.
Martin was shot six times on Oct. 5, 1996, during a traffic stop on I-77 near exit 82 in Jonesville. He was 30 years old and married to Lisa Martin. He had a stepson, daughter and 6-month-old son.
In January 2013, Brian Eugene Whittaker, 37, of Cape Coral, Fla., and Marc Peterson Olroyd, 42, of Rockwood, Tenn., were also charged in the case.
Sgt. Martin's daughter Brittany said the plea agreement was a big step for her family. "Right now it's kind of relief and finally justice being served after so long, and it's just a joy. Now it's Daddy's turn to finally rest."
Brittany was only six years old when her father was killed, but her family helps her remember what he was like. "He's the best man you probably could have ever known. Society's really missed on a great chance to meet a great guy," she added.
She said justice was finally served. "One door finally gets to shut and we get to open the next stage of our life and move on. Been dealing with this going on 18 years. It's like you get to start over and you get to have a little more peace in life."
On the night he was killed, Sgt. Martin noticed Sica and Whittaker in a red pickup truck and thought they were acting suspiciously. Investigators later determined they were about to rob a local restaurant.
When Sgt. Martin pulled over the truck on the interstate, he told dispatch he was making a traffic stop. Highway Patrol Trooper Van Tate asked if Martin needed assistance and agreed to come help out.
In the meantime, Sica and Whittaker got out of the truck while Martin searched it. Investigators say Sica pulled out a gun and shot the officer six times in the head.
In court, a detective said Tate arrived at the scene only a few minutes later, but his friend and fellow law enforcement officer was already dead.
Tate told FOX8, "Today was a good day. Today, Greg got his justice. Greg's family got their justice. And I got my closure."
"It's always been in the back of our minds," said life-long resident Regina Adkins.  "Always looking over your shoulder and wondering who, when and why. I'm very glad justice has been served."
He remembered often getting coffee with Sgt. Martin and inviting him over for dinner. "When Greg was working he'd come by. My wife and I would be home, we'd have him come in and sup with us. After all this happened those days were gone."
Tate was emotional while he talked about his friend. Both had infant sons at the time of Martin's death.
"God's been good," he said. "I am so blessed and so fortunate to have the family I have who stood by me. Greg's family's been strong. They got the justice they wanted, we know what happened now, and that's the biggest blessing of all. We've all got closure."
Detective Ron Perry presented most of the evidence to court Tuesday. He was an SBI investigator at the time of the murder. When he retired in 2003, he agreed to work part-time with local law enforcement to work solely on the Martin case, which was still unsolved.
The detective described Sica, Whittaker and Olroyd's armed robbery sprees. He said they would test drive a vehicle at a car dealership and then swap out or steal the key, later returning to steal the vehicle off the dealership lot. Sica and Whittaker would allegedly use the stolen car to rob a restaurant or bank. They'd dump the car and Olroyd would pick them up in his green truck as a getaway vehicle.
The red truck Sica and Whittaker were driving the night of the murder was stolen from a Chevy dealer in West Virginia. They switched out the key for one of Olroyd's green pickup keys.
All these years later, Perry finally tied the pieces together with that key, fingerprints and a handful of people who came forward with information.
Whittaker and Olroyd were not in court Tuesday. They are still facing charges for the murder.