This is an archived article and the information in the article may be outdated. Please look at the time stamp on the story to see when it was last updated.
FAYETTEVILLE, Arkansas -- A high school in Arkansas asked a student to change shirts because school officials said her shirt had "sexual content," according to KFSM-TV.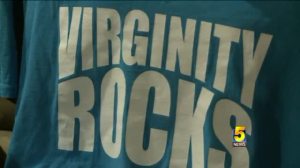 The shirt in question reads "Virginity Rocks" on the front.
"It is one of my favorite shirts," said Chloe Rubiano, an eighth grader at Ramay Junior High in Fayetteville. She said she got it at a Christian-based festival.
Rubiano said she wore this shirt plenty of times in the past at former schools. However, staff members said her shirt had sexual content on it, which would disrupt the classroom.
The student was called to the office and told she had to change shirts for the remainder of the day.
The school district said the students not allowed to wear clothing that creates disruption in the classroom.
The student's mother said she is thankful her daughter believes what she does. She also said she can also understand why the school made this decision.
"If you have the right to say ('Virginity Rocks'), you also have the right to say, 'Sex Rocks.' And, I'm like, 'Oh, Lord, he is right,'" Bambi Crozier said.
Read more: KFSM-TV