This is an archived article and the information in the article may be outdated. Please look at the time stamp on the story to see when it was last updated.
VIRGINIA BEACH, Va. — A mother in Virginia Beach, Va. is wondering if there is a ghost inside her 4-year-old son.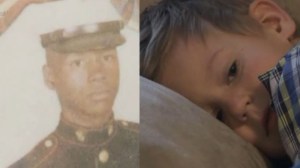 According to WTKR, Michele Lucas says her son, Andrew, remembers the death of a U.S. Marine killed in a bombing explosion in 1983, as his own death.
"He just starts crying hysterically and I say, 'What's wrong Andrew?' and he says, 'Why did you let me die in that fire?'"
She says the boy is saying things and recalling memories that no one his age should even know.
Then Andrew gives her specific information, like saying that he lived at 860 Main Street in Sumter, Georgia.
With the help of the producers of the show, 'Ghost Inside My Child,' Lucas was able to connect the information from her son to a group of Marines who died in the explosion.
One of them was U.S. Marine Sgt. Val Lewis who died in the bombing explosion October 23, 1983 in Beirut, Lebanon.
While in Georgia, Lucas took Andrew to Lewis' gravesite to see if it would give him closure.
"He went right up to the gravesite, he was okay," Lucas said. "Put the flowers down and then he took off and ran to another grave and it was a Marine and he said, 'That's my friend.'"
Read more of the story: WTKR