This is an archived article and the information in the article may be outdated. Please look at the time stamp on the story to see when it was last updated.
IVA, S.C. (WHNS) — A mother in Iva, South Carolina says she needs help finding answers after her daughter was born with four kidneys, two of which are prone to hydronephrosis, a disorder caused by a back-up of urine in the kidneys.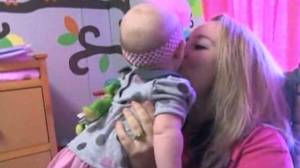 "I just feel like I'm on pins and needles all the time," said Stephanie Turner, mother of Summer Snow, 5 months.
A late-term ultrasound showed a problem just a few weeks before Summer was born.
"They told us that she had a bilateral duplex kidney system," said Turner. That means her daughter had four kidneys, instead of two.
"From what they said, it's just kind of a glitch."
Turner said when Summer was born, her daughter started having renal infections in those extra kidneys.
"Every time she urinates, some of it goes out but some of it stays in," Turner said. "What's not exiting is still sitting in the kidney."
Hydronephrosis, according to the National Kidney Foundation, is caused by a build-up of urine in the kidneys, causing blockage. This allows bacteria to grow in the stagnant urine. In Summer Snow's rare case, the hydronephrosis is in her two extra kidneys. Turner said her daughter has Stage 5 hydronephrosis.
"Her doctor in Charleston said that having four kidneys wouldn't harm her," said Turner, "but having the severe reflux that she has and the unique anatomy of four kidneys is what makes it hard."
Turner said Summer takes prophylactics to prevent further kidney infections. Her doctor does not want to do any corrective surgeries until she is at least one, because of her unique anatomy.
Turner said she hopes anyone with experience with his type of condition, particularly with extra kidneys, can offer her some advice.