This is an archived article and the information in the article may be outdated. Please look at the time stamp on the story to see when it was last updated.
ROWAN COUNTY, N.C. — The Rowan County Housing Authority chairman is under fire after allegedly making racist comments on Facebook.
WSOC-TV reported that the local NAACP is now demanding his immediate termination.
"When you insult people, you don't deserve the right to decide policy that would benefit him," said Scott Teemer, the president of Rowan County NAACP Chapter.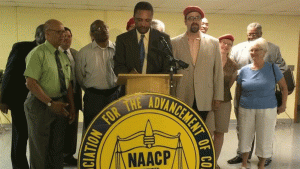 The NAACP of Rowan County and other local organizations held a press conference Tuesday, calling for the county to fire Housing Authority Chairman Malcolm Butner immediately.
The controversy is over several posts found on his Facebook page referring to women and minorities using derogatory language. The page has since been taken down.
"Gee, They are all black," Butner wrote, referring to a picture of a Moral Monday protest. "I guess the white folk could not get off because they were too busy working (and) being productive, good citizens."
The Department of Housing and Urban Development met with the county chairman Tuesday to discuss the issue. There is no formal investigation at this time.
County Commissioner Craig Pierce said the county cannot fire Butner for what he does on his personal time.
"Until we have something from a department that is requiring or requesting us to take some action, we aren't in a position to do anything," he said.
Pierce said HUD or the Housing Authority has the power to launch a formal investigation.
The director of the Housing Authority told Channel 9 she couldn't comment on the case because Butner doesn't physically work out of the Rowan County Housing Authority building in Salisbury.
Channel 9 went to Butner's house to ask him about these comments. Nobody answered.
Pierce said while he does not condone these comments, Butner is protected by freedom of speech. Some feel officials should be held to a higher standard.
"When you're in a governmental leadership role, then you represent that government, that political entity," said Geoffrey Hoy with Rowan Concerned Citizens.
Butner's appointment as housing authority chairman expires in September. At that time, the county could choose not to re-elect him.