This is an archived article and the information in the article may be outdated. Please look at the time stamp on the story to see when it was last updated.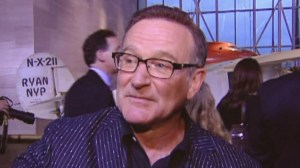 The death of Robin Williams left Hollywood — and the world — stunned on Monday evening.
Following the news of his death, dozens of celebrities took to Twitter to mourn him.
Williams shot to fame in the late 1970s as the alien on "Mork and Mindy." He conquered the big screen in comic films such as "Good Morning, Vietnam" and "Mrs. Doubtfire," but he won his Academy Award in a serious role — as the therapist in "Good Will Hunting."
He was pronounced dead shortly after noon at his Tiburon, Calif. home.
He made us laugh. He made us cry. He ended up touching every element of the human spirit. #RIPRobinWilliams pic.twitter.com/kbEq7OwPOf

— White House Archived (@ObamaWhiteHouse) August 12, 2014
https://twitter.com/SteveMartinToGo/statuses/498971366050107392
We mourn the loss of our friend Robin Williams, who always made us laugh and smile. pic.twitter.com/UOY8LTjVRA

— Sesame Street (@sesamestreet) August 11, 2014
Very sad, very upset, very glad I did not have to hear about this though Twitter. Probably going to be taking some time off it for a while.

— Mara "Get Rid of the Nazis" Wilson (@MaraWilson) August 11, 2014
Oh no this is terrible. #RIPRobinWilliams
By all accounts he was pure love

— Sarah Silverman (@SarahKSilverman) August 11, 2014
Not real. RIP mad genius. Inspiration. Legend.

— christina applegate (@1capplegate) August 12, 2014
We are very saddened to learn the passing of Robin Williams. Rest in Peace dear friend. pic.twitter.com/2mGIUntwIY

— SFGiants (@SFGiants) August 11, 2014
You will be missed. #RIPRobinWilliams #Faithful pic.twitter.com/Cn8Ynebal7

— San Francisco 49ers (@49ers) August 11, 2014
https://twitter.com/JohnStamos/statuses/498981978184908800
RIP TO ONE OF THE GREATEST COMEDIC ACTORS OF OUR TIME MR. ROBIN WILLIAMS 🙏🙏

— Mike Epps (@TheRealMikeEpps) August 11, 2014
Robin Williams' star tonight on the Walk of Fame pic.twitter.com/9XceQ2UnJv

— Jason Kravarik (@jasonkCNN) August 12, 2014
His heart was as big as his genius. So sad. Rest in Peace Robin Williams.

— bob saget (@bobsaget) August 11, 2014
I can't believe the news about Robin Williams. He gave so much to so many people. I'm heartbroken.

— Ellen DeGeneres (@TheEllenShow) August 11, 2014
Robin Williams was like no other ..To watch him create on the spot was a privilege to behold..
Robin you are an angel now !!! REST IN PEACE

— Henry Winkler (@hwinkler4real) August 11, 2014
Dear GOD. Robin Williams just died. We are so heartbroken we're emotional. No one like him on earth. He is our comedy hero. RIP Robin.

— OneRepublic (@OneRepublic) August 11, 2014
At a time like this it's hard to find the words…thank you Robin Williams for the laughter and so much more. Prayers for his family. #RIP

— Robin Roberts (@RobinRoberts) August 11, 2014
Ah Robin, I'm so sorry the earth couldn't stay worthy of you. Hope happiness awaits you.

— jason alexander (@IJasonAlexander) August 11, 2014
Robin Williams Hilarious FULL Interview on Johnny Carson's Tonight Show – 1991 #RIP Robin Williams http://t.co/qRjQzGRy8o

— Ann Curry (@AnnCurry) August 12, 2014
So sad about Robin Williams…😔

— KATY PERRY (@katyperry) August 11, 2014
https://twitter.com/lindsaylohan/statuses/498973678399262720
RIP Robin Williams. One of my favorites. Damn sad!

— Michael Strahan (@michaelstrahan) August 12, 2014
No! Robin Williams you were so loved.

— Mia Farrow (@MiaFarrow) August 11, 2014
He was one of my favorite people. #RobinWilliams pic.twitter.com/APxbRxrYGw

— Cheryl Hines (@CherylHines) August 12, 2014
When I was 18 I got a job as an intern at Comic Relief just to be near him. A genius and a truly kind man who made the world a better place.

— Judd Apatow (@JuddApatow) August 12, 2014
Just shared a moment of silence on the set for Robin Williams, a man who brought so much laughter, joy and healing to so many.

— Lena Dunham (@lenadunham) August 12, 2014