This is an archived article and the information in the article may be outdated. Please look at the time stamp on the story to see when it was last updated.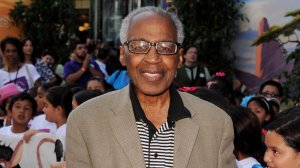 LOS ANGELES — Robert Guillaume, who was best known for his roles in the TV sitcoms "Soap" and "Benson," has died at the age of 89, the Associated Press reports.
Guillaume died at his home in Los Angeles Tuesday, his widow Donna Brown Guillaume told the AP. Guillaume had been battling prostate cancer.
Guillaume won two Emmy awards, one in 1979 for his work on "Soap" and one in 1985 for his work on "Benson."
He was also well-known for being the voice of Rafiki in "The Lion King."
In 1995, Guillaume won a Grammy Award for his work on the "The Lion King" read-a-long book.