This is an archived article and the information in the article may be outdated. Please look at the time stamp on the story to see when it was last updated.
ASHEBORO, N.C. -- The North Carolina Zoo has announced the name of the first of two new baby rhinos with a little help from the community and the baby's dad Stormy.
Born on July 2 to mom Linda and dad Stormy, this female baby rocked the zoo as the first rhino born at the North Carolina Zoo in 41 years.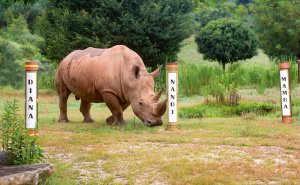 The zoo solicited input from the public in a community poll and then allowed Stormy to choose his daughters name from three options, the zoo said in a news release.
The North Carolina Zoo was excited to announce the new rhino's name is Nandi, pronounced "Nahn-dee," which means "a woman of high esteem."
Nandi's namesake is Nandi, Queen of the Zulus and mother of Shaka Zulu. The queen was born in the 1760s and died in 1827 in what is now South Africa.
Queen Nandi's son Shaka Zulu was considered by some to be among the greatest Zulu chiefs and African military leaders, and certain accounts claim that Nandi inspired his establishment of all-female regiments, according to the zoo.
The name was chosen from seven options honoring real and mythical strong, female leaders put forth by the zoo's rhino zookeepers.
The other names were:
Boadicea, a Celtic warrior queen
Diana, a goddess of wild animals in Roman mythology
Grace O'Malley, an Irish queen and naval captain
Mamba, an all-female group of anti-poaching advocates in Africa
Penelope, Queen of Ithaca and wife of Odysseus in Greek mythology who symbolizes family and fidelity
Wilhelmina, Queen of the Netherlands who fought against Nazi occupation during World War II
The North Carolina Zoo reported that the top three names in the poll were Nandi, Mamba and Diana.
For the final decision, the zoo turned to the newborn's dad.
Each of the three final choices were written on African-inspired custom-made poles spaced several feet apart and stuff with one of Stormy's favorite treats, Timothy hay.
Stormy made his choice by promptly trotting to the pole labeled "Nandi."
Nandi's younger half-sister, born to mom Kit and father Stormy, was born on July 13, less than two weeks after her older sister.
The zoo plans to announce how they will name her soon.