This is an archived article and the information in the article may be outdated. Please look at the time stamp on the story to see when it was last updated.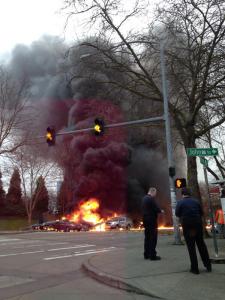 SEATTLE — A news helicopter crashed Tuesday morning near the Space Needle in Seattle, killing two people inside the helicopter and critically injuring another, according to the Seattle Fire Department.
The Seattle Fire Department confirmed there were "two DOAs" at the crash scene. The victims were identified by KOMO as photojournalist Bill Strothman and pilot Gary Pfitzner.
Bill Strothman won 13 Emmy awards over his career as a news photographer.
"One of things I loved about Bill Strothman is the legacy he leaves behind at KOMO. His son is also a photographer here," Reporter Lindsay Cohen tweeted.
According to CNN, a 37-year-old injured man extricated himself from one of three vehicles that caught fire and was taken to Harborview Medical Center in critical condition with burns over 50 percent of his body.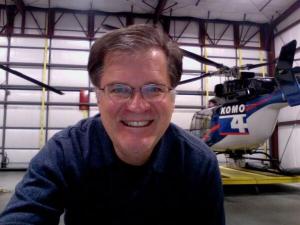 A woman inside a second car was not injured; a man inside a third vehicle had left the scene and is being sought by authorities, according to CNN. "We just want to talk to him to make sure he's OK," spokesperson Kyle Moore said.
The helicopter was apparently taking off when it crashed into at least three cars around 7:40 a.m. PT.
KOMO said the helicopter crashed on Broad Street near KOMO's offices. The helicopter was used by KOMO and KING.
Rich Marriott, a meteorologist for KING, said weather did not appear to have contributed to the crash — visibility was clear and winds were not gusty, he said.
Arriving firefighters found lines of blazing fuel in the street and thick, black smoke covering the area, with "wreckage strewn across the lawn along with wreckage across the street."
An eyewitness said one person was running from the scene with his shirt on fire. He was extinguished by officers at the scene.
"I found myself uncontrollably screaming. People immediately called 911. A police car was there in maybe 2-3 minutes," eyewitness Tyler King said.
Seattle Police said the investigation will likely take several hours.
Story is developing…
So sad to learn pilot killed was Gary Pfitzner, who was backup at KIRO. He's on the right- this was in Aug at Seafair pic.twitter.com/qvs2LKtYea

— Alexis Smith (@ThatAlexisSmith) March 18, 2014
Bill Strothman, the KOMO videographer killed in helicopter crash, won 13 Emmy awards over his career.

— Mike Baker (@ByMikeBaker) March 18, 2014
So many fond memories Bill Strothman. So many adventures. Our hearts break more than words can express. pic.twitter.com/0JJLEnCGXU

— Connie Thompson (@ConnieKOMO) March 18, 2014
We're sharing the life & love of Bill Strothman #liveonkomo. He was today's camera operator in Air 4: pic.twitter.com/e8XBnAwWQH

— KOMO News (@komonews) March 18, 2014
An earlier shot immediately after the crash. The white car was able to drive off before flames spread. pic.twitter.com/KNx7ybJS0O

— Michael Harthorne (@MikeHarthorne) March 18, 2014
What we know so far about the KOMO-TV helicopter crash at Fisher Plaza: http://t.co/XEuIhXC0tD pic.twitter.com/Tu51ZbjjHR

— The Seattle Times (@seattletimes) March 18, 2014
2 DOAs at helicopter crash scene near space needle. pic.twitter.com/JwhBs2nYUF

— Seattle Fire Dept. (@SeattleFire) March 18, 2014
Seeing 3 cars involved here where the chopper crashed. Only tail and scattered pieces of chopper remain #seattle pic.twitter.com/hebLJfSxDB

— Kelly Koopmans (@KellyKOMO4) March 18, 2014
Flames now out, told by a witness one person on fire when crawled out of a cars. 1 responders working on that person pic.twitter.com/zHeFzV0qzJ

— Kelly Koopmans (@KellyKOMO4) March 18, 2014
We heard the chopper swirling down to the ground. Rushed out to see the unbelievable, our @komonews chopper crashing into at least 2 cars

— Kelly Koopmans (@KellyKOMO4) March 18, 2014
https://twitter.com/meelataruc/status/445935408761667585
Wreckage of news chopper, 2 cars still exploding right now @komonews pic.twitter.com/YM9vVhoGOa

— Kelly Koopmans (@KellyKOMO4) March 18, 2014
Chopper tail visible amid the smoke & car wreckage pic.twitter.com/uZ57DibreU

— Kelly Koopmans (@KellyKOMO4) March 18, 2014
Flames now out, told by a witness one person on fire when crawled out of a cars. 1 responders working on that person pic.twitter.com/zHeFzV0qzJ

— Kelly Koopmans (@KellyKOMO4) March 18, 2014
A chopper has crashed near Fisher Plaza. A car is on fire. We will have updates on http://t.co/6Abb2NF1PO. pic.twitter.com/DVHd4H5iQ5

— KIRO 7 (@KIRO7Seattle) March 18, 2014
#Breaking: News helicopter has crashed on top of a car near Seattle Center. @komonews confirmed it's their helicopter.

— KING 5 News (@KING5Seattle) March 18, 2014
Medics transporting an approx 37 yo male to HMC in critical condition self extricated from car pic.twitter.com/hhVAX0qmbs

— Seattle Fire Dept. (@SeattleFire) March 18, 2014
Helicopter crash and three cars fires near space needle. pic.twitter.com/5ACUKB2wge

— Seattle Fire Dept. (@SeattleFire) March 18, 2014
Sounds like a helicopter has crashed near the Seattle Center, causing this huge cloud of black smoke. pic.twitter.com/HSRdUqqn8x

— WSDOT Traffic (@wsdot_traffic) March 18, 2014