This is an archived article and the information in the article may be outdated. Please look at the time stamp on the story to see when it was last updated.
A New Jersey couple is reportedly disputing a story that made national headlines about a gay waitress who was allegedly left a note criticizing her "lifestyle", claiming it was their receipt, they did leave a tip and didn't write the note.
Dayna Morales, an ex-Marine and server at Gallop Asian Bistro in Bridgewater, posted a photo of the receipt on Facebook. The receipt showed a customer declined to leave a tip and left a note that read: "I'm sorry but I cannot tip because I don't agree with your lifestyle and how you live your life."
NBC New York reports a couple, who asked to remain anonymous, contacted the station after the story went viral and produced a receipt that was apparently printed at the same time, on the same date, for the same amount, except with an $18 tip.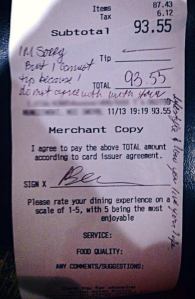 The couple also produced their credit card statement that shows they were charged for the meal plus a $18 tip, for a total of $111.55, the station reported.
The couple told NBC New York they believe their receipt was used for a hoax. In fact, the man said he didn't vote for New Jersey Gov. Chris Christie because the governor opposes same-sex marriage.
"Never would a message like that come from us," he said.
The restaurant, which reportedly could not produce the original receipt nor explain why the family was charged for the tip amount, told the station it was aware of the couple's claims and that an internal investigation is ongoing.
"I think there is enough hate and intolerance in the world that I think to create it when it's not there is shameful and dishonorable," the woman said.
"I was offended. I was mad at first, and then I was more so hurt," 22-year-old Dayna Morales told CNN.
Morales, who did a tour with the Marine Corps between 2009 and 2011, told CNN earlier this month she has been "out open and proud for years," but "never discussed with them (the family) anything; it was their pure assumption."
"It's disrespectful and it's hurtful," she told CNN. "I feel bad for their children because that's how they are going to be raised."
She says the trouble began when she approached the table of four -- a man, wife and two girls -- at around 7 p.m. Wednesday. Morales said that when she introduced herself as Dayna and told them she was going to be their server, the older woman "looked at me and said, 'I thought you were going to say your name is Dan.'"
Morales was so upset about the incident, she vented on Facebook, and the group "Have a Gay Day" posted her story on their Facebook page. The response was overwhelming.
"People have sent me tips from all over the world just to show support. I have had people from Germany to South Africa, Australia to the UK, San Diego, everywhere."
Morales told CNN that between the people who have called in to the restaurant to give credit card numbers, those who have mailed tips, or donated to a special PayPal account the restaurant set up, she estimates that she has received more than $2,000 so far.
She plans to donate the funds to the Wounded Warrior Project, and the restaurant plans to match the donations and give it to a local LGBT organization.
"It wasn't for the money. I never planned on this. I just wanted to vent," she said. "The purpose was to inform people it wasn't OK."
Read more: NBC New York