This is an archived article and the information in the article may be outdated. Please look at the time stamp on the story to see when it was last updated.
WINSTON-SALEM, N.C. — Jeff Bzdelik's has resigned as head basketball coach at Wake Forest University, Athletics Director Ron Wellman announced on Thursday.
"Jeff is a great man of great character and integrity who made every decision for the long-term benefit of the program and the university," Wellman said. "At this time, Jeff felt that new leadership would help the program and allow the student-athletes to reach their full potential."
Bzdelik, under intense fire even before the Deacons lost to lightweight Stetson 89-79 in the first game of his first season, never won enough to justify the support Wellman showed in hiring him from Colorado and sticking with him through four tumultuous seasons. Bzdelik's record at Wake Forest was 51-76, which included an ACC mark of 17-51.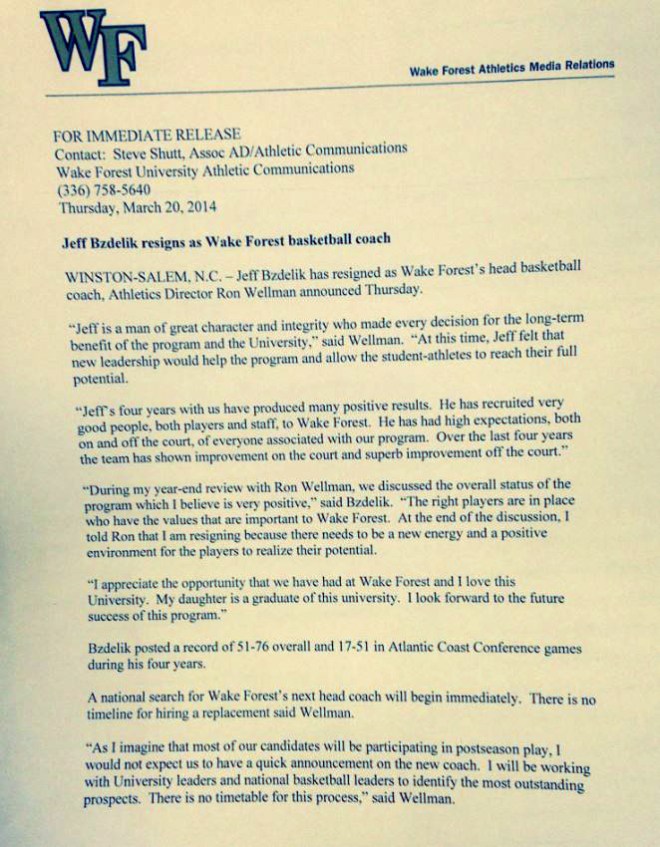 "During my year-end review with Ron Wellman, we discussed the overall status of the program which I believe is very positive," said Bzdelik. "The right players are in place who have the values that are important to Wake Forest. At the end of the discussion, I told Ron that I am resigning because there needs to be a new energy and a positive environment for the players to realize their potential."
Most glaring of all was Bzdelik's 2-32 record in ACC road games, with only five of the losses being closer than 10 points.
The Deacons were 17-16 this season, beating North Carolina, N.C. State and Duke and winning their first ACC Tournament game since 2007 by knocking off Notre Dame in the first round last week. But they also finished 6-12 in ACC play for the second straight season with jarring home losses to conference also-rans Georgia Tech and Boston College.
"I appreciate the opportunity that we have had at Wake Forest and I love this university. My daughter is a graduate of this university. I look forward to the future success of this program," he said.