This is an archived article and the information in the article may be outdated. Please look at the time stamp on the story to see when it was last updated.
HIGH POINT, N.C. — A teacher at Ragsdale High School has resigned after being accused of having a sexual relationship with a student.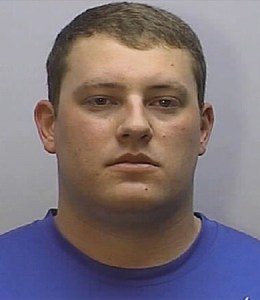 Austin Reade Ferguson, 22, of High Point, has been arrested on eight felony counts of sex offense by a school official, according to High Point police.
The High Point Police Department completed its investigation on Tuesday, according to the department.
The alleged acts occurred inside the High Point city limits and not on any Guilford County school property, according to police. Specific details about the allegations have not been released.
The suspect was placed in the Guilford County Jail under a $100,000 secured bond. He had his first court appearance on Thursday.
The mother of the student involved in the sex offense investigation contacted FOX8. Her identity is being withheld to protect her family's privacy.
The mother said she is not only hurt by what happened but frustrated she was not called when authorities questioned her daughter or when Ferguson was arrested.
"I'm hurt becasue as a mother this is your worst  fear for your children to go to school and not be protected," she said. "I got the call after everyone left and after the whole thing was done — and that's when I was called. And the information that was given was very vague."
Guilford County Schools released the following statement on Thursday:
"We are deeply concerned for all of those involved, and take these allegations very seriously. We are doing all we can to support our Ragsdale students and staff during this difficult time. We also appreciate the good work the High Point Police Department is doing in leading this investigation, and will provide them with whatever they need.

"While the allegations are of great concern, it's also important to note that we have a great team of educators and staff at Ragsdale, and in Guilford County Schools. We appreciate how well our students and staff are handling a difficult situation."
Ferguson resigned from the school on Thursday, according to a Guilford County Schools spokeswoman.