This is an archived article and the information in the article may be outdated. Please look at the time stamp on the story to see when it was last updated.
INDIAN LAND, S.C. — Four puppies are recuperating after workers at an Indian Land gas station found them tied up in a bag and brought them to an animal hospital late Thursday night, according to WSOC-TV.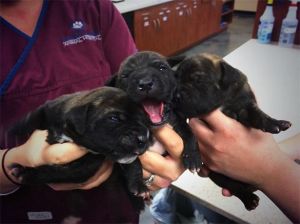 Workers at Indian Land Animal Hospital said a Good Samaritan came to their door just before closing Thursday night with a cardboard box with the puppies inside.
The man told employees he was doing lawn care at a local gas station and noticed a black garbage bag thrown behind the building. In the bag, the man found the four puppies — which are a mixed breed and so young they still can't open their eyes.
Workers believe the puppies had been tied up in the bag and left in the sun all day, unable to escape.
One pup, who vets have named Dreamer, is being kept in a special oxygen tank with a ventilator. He, along with the other puppies, has some breathing issues after being left in the trash bag.