This is an archived article and the information in the article may be outdated. Please look at the time stamp on the story to see when it was last updated.
FAYETTEVILLE, N.C. — Volunteers on Thursday will help police search for clues in the disappearance of missing Fort Bragg soldier Kelli Bordeaux.
Fayetteville police have invited the public to join in the search for the 23-year-old U.S. Army medical specialist, who was last seen leaving the Froggy Bottoms bar at 6326 Ramsey St. around 1:20 a.m. on April 14.  A police investigation into her disappearance began April 16 after Bordeaux never showed up for duty.
During Thursday's efforts, police said it's possible searchers will need to walk through private residential property in the North Fayetteville region, where crews will be assigned to various locations throughout.
A command post is being established in the parking lot of the Cape Fear Valley Health System's Health Pavilion North, located at the northwest corner of the intersection of Ramsey Street and Andrews road.
Those interested in joining the search will need to register at the command post between 9 and 9:45 a.m. The search itself will begin at 10 a.m. and last until each location has been inspected.
A valid photo ID must be shown and volunteers will also be required to sign out at the end of the day.
Those who intend to participate are advised to bring comfortable shoes and clothing, a bag lunch and backpack to carry supplies in, insect repellent, sunscreen, and rain gear in case of storms.
The invitation was extended after an organized search at a nearby two-acre pond last week turned up nothing.
Crews last Wednesday also searched the region from the bar up the street to the I-295 corridor — the last area where Bordeaux's cell phone pinged from a tower.
On Tuesday, Bordeaux's brother, Matt Henson, told WTVD-TV that family members are holding out hope and that he's "100 percent positive" that she'll be found.  The family also expressed frustrations with the pace of the search.
"I would like to think something will happen here in the next couple of days to kinda give us a big break," Henson told WTVD.
Last Thursday, police released the original missing persons report. [See the document here.] The man who filed the report, 28-year-old John Neighbors, is a member of Bordeaux's unit.
Bordeaux's husband of two years, Mike Bordeaux, was visiting family in Florida the weekend of her disappearance.  He recently told WRAL-TV that he's "praying she'll come home." Police said he's been cooperating with detectives.
Police have called Bordeaux's disappearance "suspicious" and previously said she "may be in danger," but have neither identified a suspect nor upgraded the case from a missing persons investigation.
According to WTVD, 25-year-old Nicholas Holbert was identified as a person of interest in the case.  Holbert told the station he was at the bar with Bordeaux and drove her home that night, but that he has nothing to do with her disappearance.
Holbert, who would help tend to customers at the bar and lived in a lean-in behind the establishment, said he dropped Bordeaux off about 1/4 of a mile away from her apartment on Water Trail Drive because she didn't want him to pull up to her door.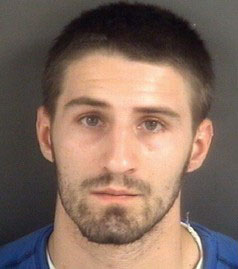 Meanwhile, Holbert, who was convicted of indecent liberties with a 5-year-old child at the age of 16, was arrested on charges unrelated to the case.  Authorities said Holbert was charged with failing to register his address as a sex offender.
In addition, the owner of the bar, 49-year-old Steven Cantrell, was arrested for failing to appear in court on a driving while impaired charge from 2001 in Cumberland County. FBI agents were also looking for Cantrell because he allegedly failed to pay $400,000 in child support to three different women, WTVD reports.
Police have started conducting second interviews with everyone who was at Froggy Bottoms the night of Bordeaux's disappearance.
Pfc. Kelli Marie Bordeaux, a native of St. Cloud, Fla., joined the military in July 2011 and was assigned to the 44th Medical Brigade in November.
Bordeaux is described as standing 5'1″ tall and weighing 102 lbs.  She was last seen wearing a pink tube top with spaghetti straps and black shorts.
Police established a special hotline for anyone with information on Bordeaux's whereabouts. They've asked anyone who was at Froggy Bottoms the night of her disappearance to call as well. The number is (910) 433-1114.