This is an archived article and the information in the article may be outdated. Please look at the time stamp on the story to see when it was last updated.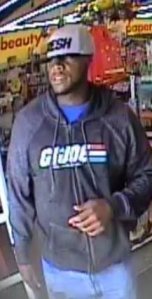 REIDSVILLE, N.C. — Police are looking for a suspect who robbed a Family Dollar in Reidsville on Sunday.
At approximately 2 p.m., Reidsville Police were called to the Family Dollar at 1105 S. Scales St.
The suspect had stolen an undisclosed amount of money.
Photos from the surveillance camera showed the suspect wearing a grey "FRESH" hat, a blue "GIJOE" jacket, a blue undershirt, and blue jeans.
Anyone with information is asked to call Detective S. M. Menard at (336) 347-2305 or anonymously contact Rockingham County Crime Stoppers at (336) 349-9683.