This is an archived article and the information in the article may be outdated. Please look at the time stamp on the story to see when it was last updated.
GREENSBORO, N.C. -- Police are investigating after a shooting incident outside Four Seasons Town Centre on Friday afternoon.
Police said the incident happened around 2:05 p.m. in the mall parking lot near pole FF.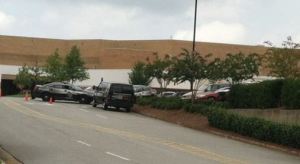 Officers said multiple shots were fired between the occupants of two vehicles. Both were male. No injuries were reported.
"It was like crack, crack, crack, one after the other," said Ashley, who was driving towards the mall when she heard the shots. "We heard 5 or 6 shots go off in this direction."
"It was like 'boom, boom, boom, boom," said Makiya Greene, who lives nearby.
One car was described as a dark-colored SUV and the other as a silver or white vehicle. Police are searching for two men connected to the incident.
Several people inside the mall told WGHP the mall was on lockdown, however police said the mall was never placed on lockdown.
Police are interviewing witnesses. The investigation is ongoing.
No other information is available at this time.
Developing...