This is an archived article and the information in the article may be outdated. Please look at the time stamp on the story to see when it was last updated.
WINSTON-SALEM, N.C. — One student was taken to the hospital and a suspect is in custody after shots were fired outside Carver High School on Friday afternoon.
Officers responded to the school around 2:26 p.m. after a reported shooting.
Winston-Salem Police Chief Barry Rountree said the shooting happened outside the school following a planned fire drill.
"I saw the dude with the gun and then I took off and he shot twice and then that's when everyone said it was a gun and took off," explained Gabriel Walatee, a sophomore at Carver.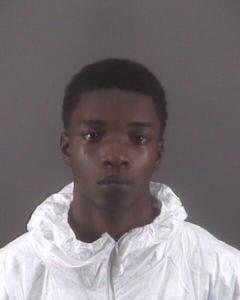 Chief Rountree said one student sustained a non-life threatening injury in the shooting. According to the Winston-Salem Journal, several parents and students identified the victim as Antwain Porter.
He was taken to Wake Forest Baptist Medical Center for treatment.
No other information about the victim has been released.
School resource officer Tim Wilson took the suspect, Christopher Lamont Richardson, into custody without incident.
The suspect has been charged with carrying a concealed weapon, possession of a firearm on school property, assault with a deadly weapon inflicting serious injury and discharging a firearm within city limits.
Richardson's bond was set at $50,000 and he has court planned for Sept. 26.
"I couldn't stop shaking for a while it was crazy. It was scary," said Syerra Miller, a Carver freshman.
No other suspects were involved in the shooting. Police did not say how many shots were fired.
"Everybody thought it was another drill, that's when everybody was saying a student had been shot at Carver," explained Devin Pleasant, a junior at the school.
Preliminary investigation indicates that the shooting happened after an ongoing dispute between the two involved parties.
"You try to send your kid for an education and these things happen its unfortunate," explained Joy Pleasants, who has a son at Carver.
The high school of 700 students is located at 3545 Carver School Road in northeast Winston-Salem.
No other information is available at this time.
The school's game against RJ Reynolds that was scheduled for Friday night has been postponed.
This is the second incident at Carver High this year. Back in January, a Carver High student was charged with possession of a weapon on school property after the juvenile brought a gun to school.
Scene outside Carver High after shooting on Friday (WGHP)

Scene outside Carver High after shooting on Friday (WGHP)

Scene outside Carver High after shooting on Friday (WGHP)

Scene outside Carver High after shooting on Friday (Winston-Salem Journal)

Scene outside Carver High after shooting on Friday (WGHP)

Scene outside Carver High after shooting on Friday (WGHP)

Scene outside Carver High after shooting on Friday (WGHP)