This is an archived article and the information in the article may be outdated. Please look at the time stamp on the story to see when it was last updated.
GREENSBORO, N.C. - Police have identified the woman who was killed Thursday when she allegedly crashed after refusing to stop for police.
According to police, Amber Nashay Carter, 21, died when she crashed her vehicle after fleeing an officer who attempted to stop her on I-40 near Merritt Drive.
Greensboro Police say Corporal J.L. Barber was driving in front of a black Cadillac that was going 51 mph in a 60 mph zone.  Greensboro Police Chief Ken Miller said the driver was driving "suspiciously" because she refused to pass the officer.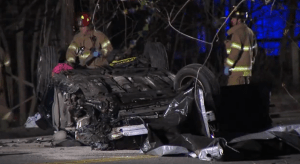 "Evasive maneuvers (can be) indicators of drug trafficking often times on the highway. It's something we see and something we train for," explains Chief Miller.
Once Cpl. Barber was able to get behind the driver he turned his lights on and tried to pull her over. Carter refused to stop.
Police say she sped through three red lights. Miller said the pursuit was caught on the patrol car's dash cam.
"In the video you can tell that she is moving at a high rate of speed. She didn't let up from the time she crossed the High Point intersection," says Chief Miller.
The vehicle exited the roadway and rolled multiple times before coming to a stop. Carter, the only occupant of the vehicle, was pronounced dead at the scene by EMS.
"I hate to see something like that happen. You try to outrun a cop and you lost your life," says Michael Waller, who lives a block away from the accident.
Police said Carter was driving with an expired license.
The 2004 Cadillac Deville was registered in her name, officers said on Friday.
The Greensboro Police Department's Crash Reconstruction Unit continues to investigate the accident and has not yet determined a motive for her to flee.