This is an archived article and the information in the article may be outdated. Please look at the time stamp on the story to see when it was last updated.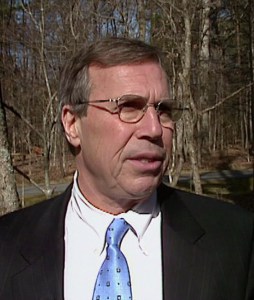 GUILFORD COUNTY, N.C. — A well-known community and business leader was killed when a small airplane crashed at Air Harbor Airport just north of Greensboro.
The pilot has been identified as Frank Richard Mascia Jr., of Greensboro, the president of the Greensboro Police Foundation and member of the Cone Health Foundation Board of Directors.
According to the Federal Aviation Administration, a Piper PA-28 aircraft crashed after departing from Runway 27 at the Air Harbor Airport at 2:15 p.m.
The aircraft went down about 200 yards from the end of the runway.
"He took off and we didn't hear him and we went down there and checked and he was in the tree," Ron Murphy, who owns Air Harbor Airport, told the Greensboro News & Record.
Murphy said they usually can hear a plane after it turns after takeoff. He said another man, Tom Anderson, got into a golf cart and went to check on the plane and saw it in the trees. He then called 911.
Mascia was flying a plane owned by a friend. He was an accomplished pilot and earned an award by the FAA in 2013 for his skills as a pilot and his aviation education.
The loss of Mascia is a shock to community leaders who were used to seeing him take charge in many social endeavors since his retirement from UnitedHealth Care of North Carolina in 2005.
"I think Greensboro is the volunteer capital of the world anyway but every person like Frank who is very bright, very well educated, very experienced; who can bring all that to nonprofit boards and support the betterment of life — what can we do without them?" asked Donna Newton.
Newton is a friend of Mascia and director of the Workforce Initiative with the Community Foundation of Greater Greensboro.
Newton called Mascia kind, gentle, helpful and bright.
"He really did provide a lot of help and guidance when he founded the Greensboro Police Foundation," said Mayor Nancy Vaughan. "It was through his advocacy that the police department now wears the body-worn cameras, which I think will really help transform police and community relations."
The Greensboro Police Department released the following statement on Wednesday evening:
"Frank was an incredible man whose passion for making life better for others inspired those around him to do the same.

Frank has touched so many lives and left so many tangible legacies throughout this city and beyond.

The men and women of the Greensboro Police Department are honored to have known him and proud to call him a member of our family.

He was a true man of strong character, endless enthusiasm, and honor. And we shall surely miss him."
Susan Shumaker, president of the Cone Health Foundation, said of Mascia's passing:
"Cone Health Foundation is deeply saddened by the passing of Frank Mascia. Frank was a tireless public advocate with a deep interest in the health of our community. He had great enthusiasm for family, community and the world around him.

We will miss his humility, caring presence, advice and wonderful sense of humor. We will keep his wife Sandy, their children and family in our thoughts and prayers."
Federal investigators will investigate the crash.