This is an archived article and the information in the article may be outdated. Please look at the time stamp on the story to see when it was last updated.
FORSYTH COUNTY, N.C. — 40 years after being abandoned as a newborn by his birth mother and grandparents at N.C. Baptist Hospital (today known as Wake Forest Baptist Medical), Steve Edsel is hoping social media will help him find his birth family.
"If it's ever going to happen it's going to be now," said Edsel, who shared his plea on Facebook this past Father's Day after hearing of other people having success finding their birth family using social media. "Even when I was little, I always knew the story."
He said he is also grateful to have been adopted and raised by Mack and Betty Edsel, of Rural Hall.
"They are my parents, loving parents, who treated me as if I was their own," he said.
"Baby Freeman" is born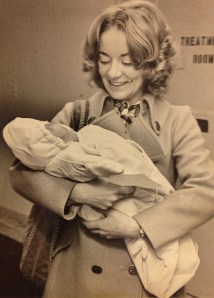 Newspaper clippings and his birth records, obtained from Wake Forest Baptist in 2003, tell Edsel he was born on Thursday, Dec. 27, 1973. At 4:30 a.m. a couple by the name of William L. and Jane E. Freeman, of 4517 Reidsville Road, asked a Winston-Salem police officer for directions to the nearest hospital as their 14-year-old daughter Deborah was in labor.
At 5:10 a.m. Deborah Freeman entered Baptist and at 5:30 a.m. gave birth to a baby boy weighing 6 pounds, 4 ounces.
"That night around 8:00 p.m. her parents came back to the hospital, they got her and they left," Edsel said.
Nurses in the then maternity ward named the infant boy "Baby Freeman." The baby would leave the hospital seven days later, on Jan. 3, 1974, in the arms of a social worker and was placed in the foster home of Mack and Betty Edsel. Later in the year of 1974 it was discovered the baby boy had a heart murmur and, knowing his health condition would make it harder to find him a permanent home, they adopted the boy and named him Stephen.
The Birth Family
Investigators believe the birth mother and the couple, claiming to be her parents, left Baptist hospital in a '69 GM model vehicle. Using descriptions from hospital staff, investigators created two composites of the birth mother who was described as: 5'7", 145 pounds, large frame, shoulder length reddish brown hair and a fair complexion. The man claiming to be the birthmother's father told nurses he was a salesman with K & E Electronics of Baltimore, Md.
Reports show that police would later discover the couple gave a false name and address, maybe taking it from the phone book, as a real William Freeman lived on Reidsville Road. Police questioned him and his wife but found no connection to the case.
"[The Freemans] invited me into their home," said Edsel, who visited them in 2003 at the beginning of his search. "I went to them at least three or four different times. They remember police coming to question them 40 years ago and they wanted so much to help me."
It is unknown if other information given to hospital staff, including the birth mother's name and date of birth (Jan. 23, 1959), was factual.
The Social Media Search
The only concrete evidence Edsel has to his mother are fingerprints from a teenage mother's hand found in his birth records.
"That's the only thing physically concrete that I have of her," said Edsel. "Everything else is a hope and a prayer."
After hearing of other people finding their birth parents using social media Edsel shared his story on his Facebook page in hopes that his birthmother will come forward.
"No hard feelings," he said Monday from his home in Walnut Cove. "If I could just see her one time."
If you have any information that can help, contact Edsel via Facebook or email.