This is an archived article and the information in the article may be outdated. Please look at the time stamp on the story to see when it was last updated.
GREENSBORO, N.C. — Police on Tuesday released surveillance photos of a suspect wanted for assaulting a grocery store worker and robbing the store at gunpoint.
The robbery was reported around 11 p.m. Sunday at the Food Lion at 2208 Golden Gate Drive.
Police say a Food Lion employee was gathering shopping carts in the parking lot of the store when he was approached by a man who was armed with a handgun and had his face covered with a bandana.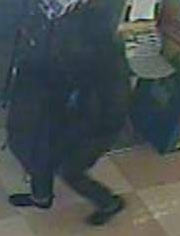 The suspect "repeatedly struck" the employee with the gun before forcing him inside the store, police said. Once inside, police say the suspect held the victim and two other employees at gunpoint.
Police say the suspect ran away after stealing an undisclosed amount of cash. Officers used a K-9 in an attempt to track the suspect, but he was not found.
The victim who was attacked was taken to the hospital by ambulance to be treated for injuries that were described as "serious," but not life-threatening.
Neither of the other two workers were hurt during the robbery.
Anyone with additional information about the incident is asked to call Crimestoppers at 373-1000. A cash reward of up to $2,000 is being offered for information leading to the arrest of whoever is responsible.