This is an archived article and the information in the article may be outdated. Please look at the time stamp on the story to see when it was last updated.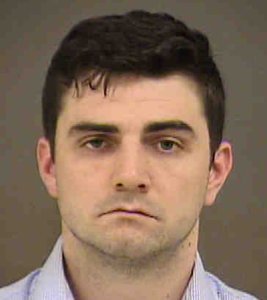 CHARLOTTE, N.C. – The Carolina Panthers fan caught on video punching a man multiple times has been released from jail.
The Charlotte Observer reported that Kyle Adam Maraghy, 26, of Charlotte, was released from the Mecklenburg County jail after being charged with simple assault. He had been jailed on a $1,500 bond.
The suspect is accused of sucker-punching an older fan Thursday night in the upper deck of Bank of America stadium during the Panthers versus Eagles game.
The video shows Maraghy turning around and punching a 62-year-old man in the face. It was posted on Instagram by user "odubco."
The Carolina Panthers released a statement about the incident Friday afternoon:
"We have reviewed video tape of the incident and have identified the perpetrator. We are working with the Charlotte Mecklenburg Police Department to pursue charges to the fullest extent of the law. The Carolina Panthers are committed to a fan-friendly and family-friendly stadium experience. The behavior exhibited by the perpetrator is unacceptable and will not be condoned at Bank of America Stadium."
The Panthers lost 28-23 and fell to 4-2 on the season.
The suspect had nothing to say to reporters who questioned him as he left jail.