This is an archived article and the information in the article may be outdated. Please look at the time stamp on the story to see when it was last updated.
WILKESBORO, N.C. — One of the victims in Monday's stabbing at Tyson Foods in Wilkesboro has died, police said in a news release Tuesday.
"This is rare for us. We're kind of a small community," said Wilkesboro police Capt. Tommy Rhodes. "It's not something that happens often."
Marco Mariano Alva, of North Wilkesboro, has died from the injuries he received.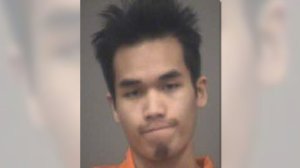 A High Point man is accused of stabbing two men at Tyson Foods. Sein Win, of High Point, is being charged Tuesday with first-degree murder, according to the news release.
At 5:41 p.m. Monday, Wilkesboro police received a 911 call from Tyson Foods, located at 701 S. Factory St., in reference to a disturbance where two employees were stabbed.
"When you get a call that someone's been stabbed you know there's already weapons there," Rhodes said. "So, it is a heightened alert."
When officers arrived, witnesses identified Win as the suspect. He was taken into custody without incident.
"The people [that were] in the area were just getting away from the area, that's what our officers met when they first got there," Rhodes said, of other employees who were inside the plant at the time.
Both victims had multiple stab wounds and were taken to Wake Forest Baptist Medical Center in Winston-Salem.
It is unclear what led to the altercation.
"Right now, the best we can say is that there was a verbal exchange," Rhodes said. "We don't know what was actually said."
The other victim in the incident, John Tyler Fox, of Lenoir, remains in critical but stable condition, according to Rhodes.
Win now faces charges of assault with a deadly weapon with intent to kill inflicting serious injury and first-degree murder. He made his first appearance on Tuesday, where his bond was revoked. He is due back in court on Feb. 1, 2017.
Worth Sparkman, public relations for Tyson Foods, released the following statement:
'We're deeply saddened by the loss of one of our team members and the injury of another in an incident at our Wilkesboro plant Monday. We're fully cooperating with law enforcement as they investigate what happened. We're also bringing in an additional chaplain to provide support to our other team members in the aftermath of this tragedy."