This is an archived article and the information in the article may be outdated. Please look at the time stamp on the story to see when it was last updated.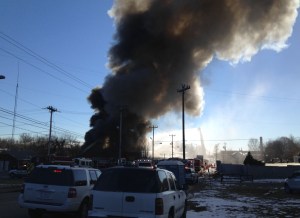 GREENSBORO, N.C. — One firefighter is still in the hospital after the roof of an auto shop collapsed during a fire on Thursday.
The fire was first reported around 12:45 p.m. Thursday at Import Knight Auto Repair at 811 S. Elm St., Greensboro.
The Greensboro Fire Department has determined that the fire started when gasoline leaked from a vehicle onto the floor and ignited when a worker accidentally dropped a portable light onto the fuel. The vehicle involved was elevated on a lift at the time of the fuel ignition and quickly became involved in the fire. The intense heat from the raised burning vehicle hastened the damage to the roof structure, resulting in a collapse.
The four injured firefighters were initially taken to Moses Cone Hospital.
Captain Thomas Sterling Suddarth was the firefighter most seriously injured in fire. He was taken from Moses Cone to Wake Forest Baptist Medical Center. He is still in the hospital.
Greensboro Deputy Fire Chief Clarence Hunter says Capt. Suddarth is doing well Friday morning, and even talking.
Capt. William Shane Boswell, Matthew Clapp and Bryan Bachemin also sustained minor injuries. All three have been released from Moses Cone Hospital.
There were six workers inside at the time of the fire. All made it out safely.
Fire officials said this is the first serious injury a Greensboro firefighter has suffered in line of duty "in a very long time."
"It's a very serious time. There's a lot of thinking reflecting. A lot of thinking about what we've been through," said Greensboro Fire Division Chief Michael Swails.
Investigators describe what's left of the body shop as "one big mess."
Salt trucks were also used on Friday to thaw a sheet of ice near the auto shop.
Greensboro FD: fire caused by fuel leaking from car. Worker dropped portable light into fuel. Accidental. Developing.

— Neill McNeill (@NEILLMCNEWS) January 31, 2014
Per Greensboro city officials: cause of downtown auto shop fire "was a gasoline leak and a portable light." @myfox8

— Lindsey Eaton (@LindseyEatoNews) January 31, 2014
South Elm Street from Bragg Street to East McCulloch Street is still closed. pic.twitter.com/JzP861qqBG

— Kim Wynne (@KimWynneNBC6) January 31, 2014
GSO police, fire and ATF investigators are looking into cause.

— Kim Wynne (@KimWynneNBC6) January 31, 2014
City crews digging out debris and thawing ice with salt trucks day after auto body shop in Greensboro burns down. pic.twitter.com/IIHLcgqsEg

— Kim Wynne (@KimWynneNBC6) January 31, 2014